architecture - engineering - construction
BlueWater, the original creators of the collapsible rooftop guardrail, Stealthrail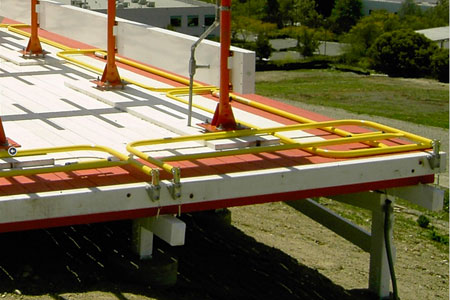 The StealthRail folding guardrail is a collapsible, portable guardrail and safety rail system. Designed with a one-way pivot assembly, the guardrail folds when used on a surface and does not exceed a vertical plane when in the upright position. A detent pin on each pivot assembly locks the safety guard rail in the upright position. When the system is in its folded position, there are clean sightlines from ground level and the building's architectural integrity is preserved.

Requires no penetrations in substrates for installation
Save money over an engineered lifeline system
Rails come in 3', 3-1/2', 4', 5', 7-1/2' and 10'
Standard tough UV yellow powder coat finish; Other colors and galvanized finishes are available
Rails can be mounted in infinite positions
Use the system around mechanicals or for perimeter protection
Certified test results are available
Exceeds OSHA Regulation 1910.23, (Standards – 29 CFR) 1926.501 and 1926.502
The StealthRail GuardRail System provides clean site lines and preserves the architectural integrity of your building, while offering perimeter passive fall
Rail sections are constructed ofF5/8" inch steel tubing. The rails secure to 108 pound cast iron bases that have four ports, allowing the rails to be placed in infinite positions. Each section is collapsible and the one-way pivot assembly allows the rails to fold down after rooftop work has been completed. When the bases are installed in a run witha 900 return on eachend, the combined mass and the geometry of installation creates an OSHA compliant barrier for roof edge protection.
The StealthRail requires no penetration to the roof surface when installed.
Basic Use
The StealthRail's fold-down design provides clean sight lines while meeting OSHA's requirements for safety guardrail systems.
OSHA Compliance
Compliant with regulations for guardrails:
29 CFR 1910.23
29 CFR 1926.502
Features
No intermediate counter weights required
Reduce costs over an engineered lifetime system
Folds out of sight when not in use
Quick installation
No drilling needed
Deemed OSHA compliant by an independent accredited engineering firm
Can be used around mechanicals or for perimeter protection
Rails can be mounted in infinite positions
Manufactured in-house
Powder Coat and Galvanized finishes available
Custom colors available from the RAL Color Codes
Optional EPDM rubber pads and BUR pads available for added roof surface protection
View StealthRail Specifications Sheet
About BlueWater Manufacturing
BlueWater Manufacturing, Inc. offers industry-leading, non-penetrating guardrail systems for OSHA-compliant fall protection on flat roof building and elevated platforms. Unlike other barriers, BlueWater's versatile, American-made solutions are engineered-to-order, yet easy-to-install and ensure passive worker fall protection without jeopardizing roof integrity. BlueWater's signature SafetyRail 2000 series assures OSHA compliance while offers the advantages of fast installation, portable, modular design and extreme wind resistance in a solution that is tailored to your structure.

For other relevant searches, you might want to try: