architecture - engineering - construction
5 Reasons Autumn Is the Time to Address Industrial Rooftop Safety Issues
As the heat of summer fades and the leaves begin to change color, you and your facility are already gearing up for the holiday season. It's a busy time of the year, and it's vital that you keep the momentum going into a profitable year's end.

But even with everything going on within your industrial facility, autumn is also the ideal time to focus on what's on top of it – and service your rooftop mechanicals.

Before you begin this essential task (or any other seasonal work on your roof), it's important to address rooftop safety issues and to install appropriate OSHA-compliant roof safety systems so crews stay safe as they prepare your rooftop for the upcoming winter.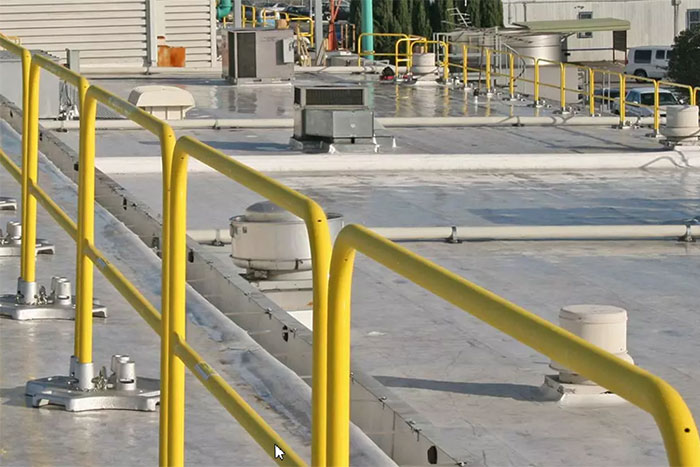 Why Is Autumn the Right Time to Address Rooftop Fall Protection?
Any time of year that workers are working on the roof or your rooftop mechanicals, rooftop fall protection must be your number one priority. But autumn is a particularly good time to evaluate and address your rooftop safety and fall protection needs for five very good reasons:
More Comfortable Conditions for Employees - The main reason that industrial rooftop work is typically performed in fall is the milder weather. The intense summer sun has passed, which makes it easier, more comfortable, and safer for workers to do rooftop tasks. But you need to evaluate rooftop safety conditions first.
You Must Remove Hazardous Rooftop Debris – Any time they are on a rooftop, employees are at risk, but preparing your facility's rooftop for winter includes clearing debris from the rooftop such as leaves and branches. This can be a dangerous task for workers, especially if the debris is covering potential fall hazards like unprotected skylights or holes. The heightened risks make it all the more important to ensure safe, thorough, OSHA-compliant protection.
Perfect time for Climate Control Maintenance – In between air conditioning season and heat season is the ideal time to get your commercial HVAC/R and other rooftop systems serviced. Your HVAC techs will want to shut down the air conditioning and prepare the heater for the upcoming winter months. Since these units can often be close to the leading edge, fall protection must be addressed before anyone accesses the area.
Your Roof Needs to be Ready for Winter - Making rooftop repairs and tackling seasonal projects in fall prepares your roof for the upcoming winter season. Getting them done before the harsh weather and holiday seasonal activity is essential. Fall is also a good time for a roof and roofing membrane repair, replacement, or new roof installation. These processes mean additional materials, equipment, tools, and people on the roof, so it's vital that you pre-emptively address fall safety and fall protection.
Ideal Time for Annual Safety Inspection - It's important to regularly evaluate your compliance with OSHA regulations and autumn is a good time designate for a complete safety inspection. Not only will this help you avoid potential OSHA fines for non-compliance; it also ensures workers are safe on your rooftop during the important tasks noted above.
What Are the OSHA Fall Protection Requirements for Rooftop Work?
Per OSHA 1910.28, you must provide fall protection whenever workers are performing their duties at a height of 4 feet above a previous level. Whenever workers are performing autumn repairs and maintenance on your roof, you'll need to provide fall protection that meets OSHA standards. Keep in mind that OSHA has no specific requirement for any one type of fall safety equipment, however, any roof safety systems you incorporate must meet OSHA 1910.29 standards. If your equipment fails to meet the minimum guidelines, you may face large fines for non-compliance as well as a host of other costs and penalties.
Areas of Focus for Maximum Rooftop Fall Protection
As you're preparing to tackle autumn rooftop maintenance tasks, you must first address the fall hazards workers and contractors may face. To do this, you're going to need to perform a thorough inspection of the rooftop alongside a qualified safety expert. This essential step will help you understand where the fall hazards are and what you can do to eliminate them or to minimize exposure for workers. Common areas to focus your fall protection attentions on include:
The Leading Edge
Due to their size, weight, and functions, rooftop mechanicals are often located close to the leading edge of the rooftop. For workers who service HVAC equipment and other mechanicals, this presents a big safety issue. A metal guardrail that meets OSHA standards for height and strength is essential to protect workers from this obvious fall hazard.
Skylights
Skylights can pose a dangerous threat. They are not designed to be walked on and when covered in debris, they're virtually invisible. If a worker is unaware of the skylight, or cannot see it, there's a very real threat of a fall. An OSHA-compliant metal guardrail installed around the skylight, or an OSHA-approved skylight screen will keep workers from getting near delicate skylights.
Roof Hatches
Access to your industrial rooftop is likely gained from climbing a fixed ladder to a roof hatch opening. When closed, the roof hatch doesn't represent a fall hazard. However, once opened the roof hatch must be protected. Again, OSHA-compliant safety guard rails should be installed around three sides with either an off-set or a safety gate installed to allow safe access to the hatch.
Uneven Rooftop Surfaces
As workers traverse your facility's rooftop, they may encounter a difference in height from one part of the building to the next. These uneven surfaces can pose a serious fall hazard, especially if workers are carrying objects or if there is debris. Safety guard rails will alert to the danger and provide fall protection for workers.
Around Rooftop Equipment
While working on rooftop mechanicals and equipment, workers are vulnerable to trip and fall accidents. Surrounding equipment with roof safety systems like a metal guardrail can help protect workers by providing a safe perimeter that they can work in.
Roof Safety Systems for Year-Round Fall Protection
Fall is the perfect time to address rooftop fall protection concerns as you prepare your building and mechanicals for winter. The safety of your employees, contractors, and anyone else who climbs onto your industrial roof is your responsibility. That's a lot of weight to bear, but BlueWater by Tractel® is here to help. Feel free to contact us, and one of our qualified safety experts will assist you with choosing the right roof safety systems for your facility.
@BlueWaterMfg #BlueWaterMfg #skylight #osha #safety

For other relevant searches, you might want to try: