architecture - engineering - construction
Boon Edam Launches the Slimmest Single Wing Access Gate
Royal Boon Edam International B.V., one of the world's largest manufacturers of architectural revolving doors, today announced the launch of the Winglock Swing, an intuitive, elegant new single wing access gate. This gate is specifically designed to either coordinate with the contemporary Speedlane Lifeline series (as an additional specialized lane) or be used as a stand-alone single installation.

The Winglock Swing offers the user an effortless passageway with carefully thought-out, intuitive LED lights to guide even the most inexperienced visitor through to their destination. A combination of green, orange and red colors displaying static, pulsing and flashing signals effectively guides traffic through without any delays.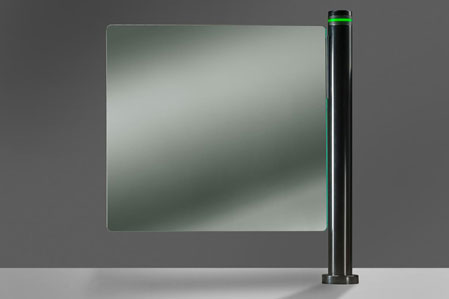 Boon Edam Launches Winglock Swing--the Slimmest Single Wing Access Gate
Energy Saving at its Best
Boon Edam's product developers have engineered sustainable operation on the lowest energy output possible so as to reduce the carbon footprint. Just 9W of energy is used in standby mode and 20W while in motion, a huge accomplishment considering the industry standard is an average of 200W.
Secure, Stable and Customizable
A new and substantial floor plate design alleviates the need for an additional supporting side post, which notably simplifies installation into the flooring. The gate comes standard in brushed stainless steel, but also has the option for a wide range of finishes or colors based on the trendy Business, Elements or Expressions series. Glass, colors and finishes can also be largely customized to suit any business and brand requirements.
Daan van Beusekom, Product Manager, Royal Boon Edam International B.V. commented, "There has been a gap in the market for a product which is affordable and accessible, and we have responded by introducing our sleekest access gate to date. We strive to provide simple and effortless user experiences through our products and are extremely proud that the Winglock Swing meets those requirements and more."
Elegant Disabled and Wide Lane Access
Boon Edam is committed to comfortable and safe access for everyone. Free and easy passageway is guaranteed for wheelchairs, large luggage and trollies, making this lane a flexible solution for almost any space.
Download the Product Data Sheet

For other relevant searches, you might want to try: