architecture - engineering - construction
Brick Staining
Nawkaw is the industry leader for brick staining services – providing you with brick stains that are both effective and innovative!

We manufacture and apply bstains specifically engineered to compliment the textures of brick, block, concrete, stone, and stucco. Why paint your home or building when you can have a sustainable color solution that won't chip, fade, or peel!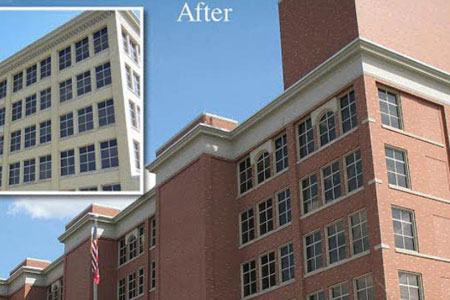 As you may know, brick can be manufactured with many different textures, and colors. No two batches of brick are exactly the same. If your house or building needs a brick repair, finding an exact match is near to impossible! When this happens, call Nakwaw! We have experienced Color Specialists and Field Technicians that know how to make your brick look evenly colored using brick stains.

Nawkaw offers a wide range of stain solutions that will work for any job. From translucent stains that allow your surface texture to show through to thick opaque stains that can be used to hide flaws and blemishes.

Brick tinting is often the term used when the project calls for a translucent color effect that does not hide the texture of the surface. This is much different than painting. Staining or tinting brick allows the natural texture to remain while changing the overall look and color of the brick. Nawkaw offers an endless number of color possibilities for tinting brick. Multi-color brick tinting is no problem! Share with us what you are looking to accomplish and we will show you how to bring your concepts to life.

There is no job too big or too small for Nawkaw! Our stain products are warrantied for 25-years to ensure every customer is 100% satisfied.

For other relevant searches, you might want to try: