architecture - engineering - construction
CableView Wood Cable Railing System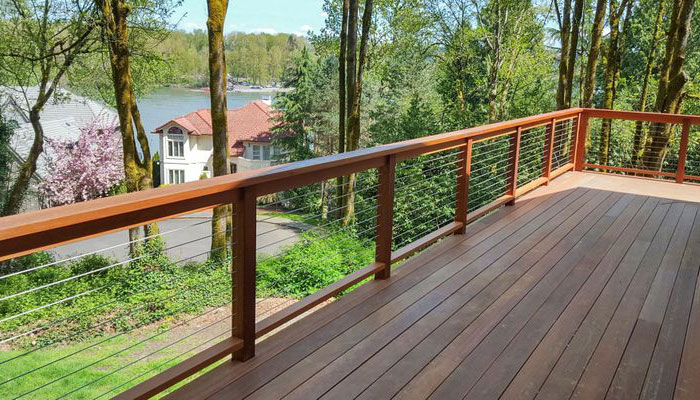 For those interested in a wood frame rather than metal, we offer certain wood species renowned for their strength, durability, and beauty. In addition to these natural qualities, our wood posts are also uniquely engineered for additional structural and aesthetic consistency, ensuring a higher level of resilience that can properly withstand the tension of cable infill. Additionally, because of these species' natural durability, they are also comparatively lower maintenance than other woods and last longer.

Engineered wood posts are available in two options: Batu Mahogany and Western Red Cedar.
Western Red Cedar Posts have a hollow interior for easier installation and project flexibility, and are available in two sizes: 4x4 and 6x6.
Our wood top rails are available in three wood species: Batu Mahogany, Western Red Cedar, and Ipe Brazilian Walnut.
Top Rails come in a variety of sizes and thicknesses depending on your taste and application.
Thinner top rails are intended to be combined with our aluminum Post-To-Post inline top rail support, making for an effortless and stylish fusion of aluminum and wood. Thicker wood top rails can be mounted on our stainless steel posts.
@SCRrep #SCRrep #Railing #CableRailing #WoodRailing

For other relevant searches, you might want to try: