architecture - engineering - construction
News
Call It a Comeback: Inside Downtown Detroit's New Little Caesars Arena
HOK designs new game-day experience with fan amenities, custom elements & "the Via"
The grand opening of Little Caesars Arena, a sophisticated $863 million sports facility designed by HOK, continues to signal an era of economic growth and an energetic revitalization for the city of Detroit. The high-profile arena, which opened last fall, promises to anchor bustling activity in a new 50-block mixed-use district in downtown, and will host both the NHL's Detroit Red Wings and the NBA's Detroit Pistons. Now, Detroit boasts bragging rights since it's the only city in America where all four professional sports teams, including the Tigers and Lions, play within four blocks of each other.
Since Little Caesars is located in the heart of downtown, its construction process was highly visible – and so is the finished result. A team of architects from HOK's Kansas City office envisioned an arena with a lower profile and a playing surface that's actually 40 feet below street level, allowing the structure to fit nicely into the surrounding urbanscape. Designers achieved this neighborhood connection in part through the communal "Via," an indoor street shielded by a glass roof that connects the arena to the Red Wings office, retail stores and the box office. Overall, the complex itself represents a connection: Developers working to join the city's midtown and downtown areas – thus boosting growth in jobs and economic activity.

HOK clad the edifice in various types of brick and kept the building height low so they would easily co-mingle with other destinations along Woodward Ave. The team's close attention to material finishes continued inside, featuring customized metal ceiling elements in wood finishes to create a warm, natural look. Linear ceiling panels from Hunter Douglas Architectural join together to form an inverted "v" peak that curves around the spacious concourse. Beneath the signature ceilings, state-of-the-art technology perks, fan amenities and community spaces deliver what Walls & Ceilings calls a "knock out project."



Hunter Douglas created 3,150 back-cut v-notches at the panel intersections, and engineered a splice plate that fit the architect's design.

Victoria Anderson, Hunter Douglas' design specialist, worked closely with the architect in earlier stages of the project, and sent a rendering to Hunter Pope, Hunter Douglas' architectural sales manager, for evaluation. "I immediately said, 'Yes, we can do this, let's see how we can take a standard product and make it custom," Pope recalls. He adds that when it comes to projects with the scale, ambition and timeline of this arena, architects increasingly ask manufacturers to provide design, engineering and fabrication solutions. "…It's where the market's headed… Everything is becoming more sophisticated as far as computer programming and machine capabilities… And, with that being said, everything is more of a fast-paced project… the marketplace is driving things being done at the facility so that when it gets to the jobsite, it's done and ready to be installed."

To set a roadmap for easy installation, Hunter Douglas created a custom engineered system for its standard Box 6 ceiling panels, eliminating the need for the contractor to field-measure or cut. Part of this process required precision fabrication of 3,150 back-cut v-notches at the panel intersections, and in-house engineering of a splice plate that fit the architect's design. "Contractors don't have time to label things, figure out where they go, package them and sort things out on the jobsite," says Pope. "We made a stride here to make sure that when things leave the facility, the contractor knows exactly what they're getting…" It's an approach that recalls Ikea's ubiquitous packaging of parts and pieces so DIY-ers can build their own furniture.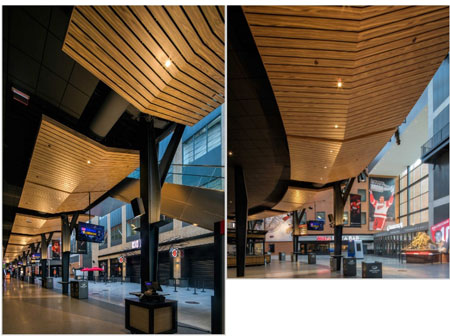 Detroit is the only city in America where all four professional sports teams play within four blocks of each other.

For the concourse area, wrapping all the way around the arena, the team performed custom back-cuts of the six-inch panels at varying lengths: "there was a bottom piece and an angled piece, so both pieces had to be mitered so they'd come together," says Pope. "Every piece on the bottom was the exact same cut and length, all the flat panels with the angles were the exact same. The angled panels did have different lengths because the very top of the bay actually curved so those panels had to be different lengths." On top of that, behind the concession stand area, the architect incorporated sloped, straight Torsion Spring panels which Pope says segment at points.

Pope says it was a privilege to work with "one of the top architecture firms in the world" on this project to create something exciting and dynamic that the client envisioned for Detroit. "Anytime you get to create something that is definitely a showpiece or catches somebody's eye, it's extremely rewarding just to be able to work with a high-profile architect and client to create something that really stands out and is really different than they've ever seen before," Pope reflects, "that's really the best part."

The completion of Little Caesars arena symbolizes high-style design, local sports pride and an entertaining, wowing experience for fans. At the opening ceremony, the Detroit Pistons owner Tom Gores told the crowd, "As far as Detroit goes, this is a huge win. I think this could complete our comeback."
URL:
http://blog.hunterdouglasarchitectural.com/call-it-a-comeback-inside-downtown-detroits-new-little-caesars-arena/
For other relevant searches, you might want to try: