architecture - engineering - construction
Case Study: Flatbush Gardens Mailbox Replacement Project
Mail and package delivery equipment replacement increases resident satisfaction and mail carrier efficiency while improving property value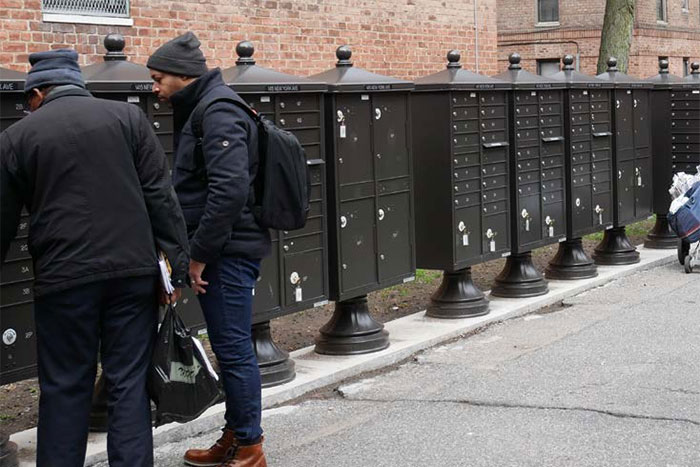 PROBLEM
Clipper Equity, owner and property manager, listens to residents' concerns about the outdated underground mailroom which serves all 2,500 residents. Clipper Equity was simultaneously investigating ways to increase property value.
Resident Concerns:
Walking distance from each building could be up to several blocks.
Residents pick up mail in a dimly lit and largely unsecured underground environment.
Small square mail compartments with limited capacity require mail to be rolled to fit.
Parcels delivered by U.S. Postal Service could only be picked up during specific and inconvenient service hours.
SOLUTION
Working with the U.S. Postal Service, Flatbush Gardens determines installing Cluster Box Units (CBUs) throughout the complex will address resident concerns and bring the property into alignment with postal delivery standards.
By adding a Florence Authorized Dealer to the team, Flatbush Garden's leadership gained valuable insight on mail and package delivery product solutions and installation.
Adding Cluster Box Units Through Property Solves Resident Concerns:
Adding CBUs brings the property's mail delivery up to current USPS service standards.
The plan locates mailboxes conveniently near each resident's building.
The new outdoor CBUs provide a safer environment for picking up mail and packages.
CBUs are built with mail compartments with larger capacity and flat storage.
Each unit provides parcel lockers for secure, convenient USPS parcel delivery.
Adding accessories such as designer caps and pedestal covers enhances aesthetics - improving property value.
RESULT
Satisfied residents, Postal carriers and property owners!
@FlorenceCorp #FlorenceCorp #mailboxes

For other relevant searches, you might want to try: