architecture - engineering - construction
Case Study: Gaston Miron Library, Canada
Located in a grand heritage building fashioned in the Beaux-Arts style and dating back to 1912, the Gaston-Miron library in Quebec's Sainte-Agathe-des-Monts was named in honor of the celebrated poet born in the same town in 1928.

The library, located in the heritage building since 1981, underwent a $2.4-million renovation in 2018. The upgrade nearly doubled the building in size and included the installation of 800 square feet of Unicel Architectural's timber curtain wall along the structure's east side.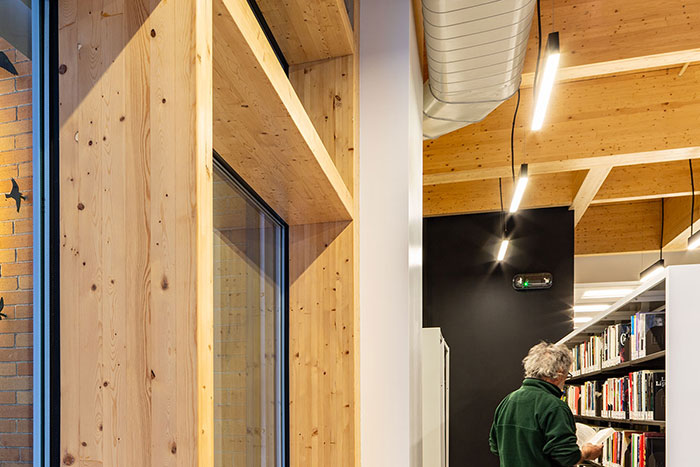 The load-bearing, THERM+ H-I 76 curtain wall uses double thermo glazing alongside spruce-pine-fir glulam. Its east-facing positioning floods the building with dazzling morning light each day, while providing passive solar heating and a sense of well-being to both library staff and patrons alike.

Unicel Architectural's timber curtain walls seamlessly combine timber, steel, and aluminum, and are customizable to fit in a variety of vertical facades or sloped glass roofs. Curtain walls can accommodate insulating glass units and feature efficient thermal insulation with Um,t = 0.80 W/(m²K) (0.14 Btu/hr-sq ft °F).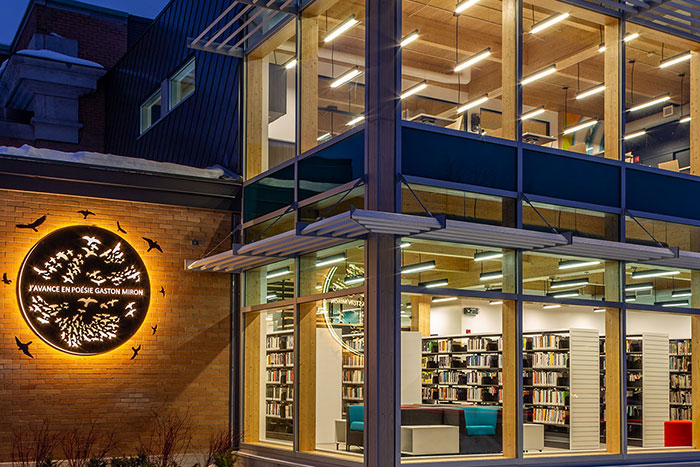 The Bibliotheque Gaston Miron now houses the office of the Heritage Committee and includes a section for children, a multipurpose room, and seating for work and reading. The facility can now also easily accommodate its collection of nearly 33,000 books while paying proper homage to its namesake.
@UnicelArch #UnicelArch #UnicelArchitectural #Aluminum #Glass #Louvers #Glazing #Skylights

For other relevant searches, you might want to try: