architecture - engineering - construction
Case Study: Heart Lake Road Residence, Canada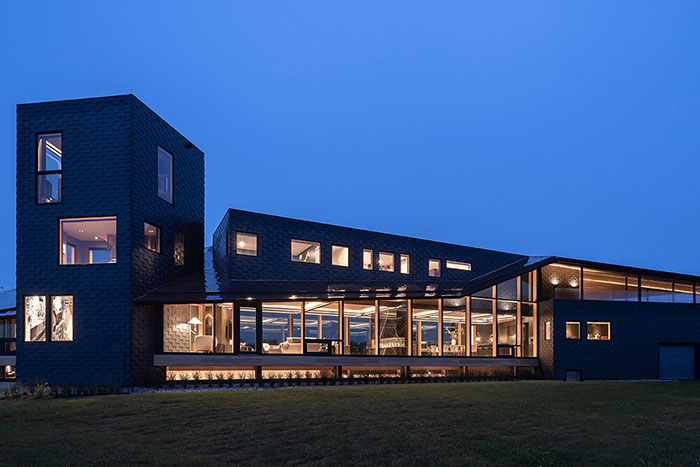 Built on a 100-acre slice of pristine land comprising forest, wetland, and meadows just north of Toronto, this stunning family retreat features 2,300 square feet of triple-pane timber curtain wall supplied by Unicel Architectural.

The 10,300 sq. ft. home stands out thanks to powerful design by Ottawa-based Kariouk Architects, including the 60-meter, tarp-like roof that appears to drape itself over the structure and floor-to-ceiling glass throughout. The house features a black marble fireplace, white oak ceilings, grey slate shingle walls, and geothermal heating.

Because Unicel Architectural's timber curtain walls are flexible enough to accommodate buildings with steel, concrete, or timber structures, the glazing was easily installed alongside the $14,995,000, five-bedroom, six-bathroom home's steel framing.

Unicel Architectural's glass curtains are nestled between large, slate-clad volumes peppered with smaller windows. The triple-pane glazing bathes the home with brilliant natural light while working in concert with the home's unique roof overhangs to reduce solar heat gain in summer, and significantly improve heating and cooling efficiency year-round.

Unicel Architectural is an official fabricator and installer of RAICO THERM+ timber curtain walls, which offer unmatched stepless insulation along with superior airborne sound insulation, water tightness, air permeability, wind resistance, and resistance against impacts.
@UnicelArch #UnicelArch #UnicelArchitectural #Aluminum #Glass #Louvers #Glazing #Skylights

For other relevant searches, you might want to try: