architecture - engineering - construction
Case Study: New Bird Netting Means 'No Vacancy' For Crows at Hotel
Springhill Hotel in Temecula, California was having a problem with black crows. The birds were building nests, leaving bird droppings on and around the hotel, and creating considerable noise.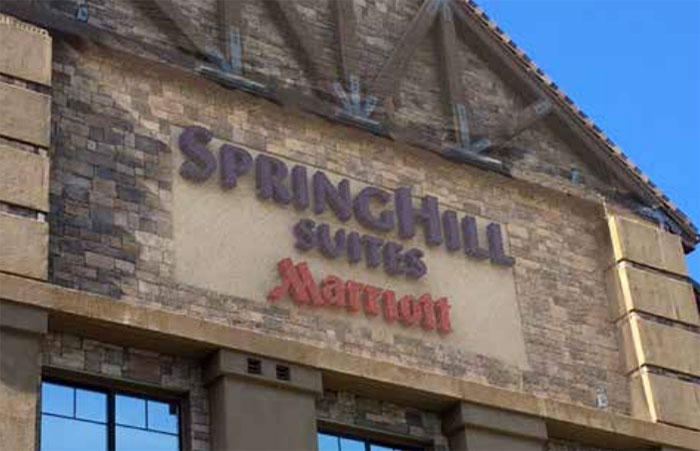 Virtually Invisible when Installed.
Issues to be addressed: Large numbers of crows were congregating around the hotel property. The hotel's owner enlisted the help of Zenon Vargas of Vargas Unlimited Land to install Bird•B•Gone® netting to address and solve the crow problem.

Challenges to overcome: The netting had to be installed at a height of 80 feet. A man lift was needed to install the netting properly and safely

Product Installed: Bird•B•Gone 50 x 25 Stone-Colored Heavy Duty Netting

Solution: Bird•B•Gone netting was installed over the hotel's façade. The high-density, flame resistant (270°F melting point) polyethylene knotted netting satisfied the rigorous demands of this venue. Rot-proof, non-conductive, and stable in sub-zero temperatures, the netting is comprised of 12 monofilaments, each 12/1000" thick with U.V. stabilizers added. The monofilaments, twisted together to produce a strong twine with 410-430 twists per meter, are ISO 1806 protocol mesh tested in excess of 116 lbs.

Result: The netting solved the issue the hotel had with black crows and blended aesthetically with the hotel's color scheme. The hotel's owner even asked the installer, Zenon Vargas, to install 10 more gables of netting at the same hotel. The installer had been using Bird•B•Gone for over 8 years. He was very pleased with the product and will continue to use it for future installations.
@birdbgone #birdbgone #BirdNetting

For other relevant searches, you might want to try: