architecture - engineering - construction
Case Study: Sustainable and Energy-Efficient Mixed-Use Features Contemporary Design
University Heights Professional Centre in Toronto, Canada is an 8-story, 160,000+-square foot mixed-use building comprised of retail space on its lower levels with professional offices on its upper levels. Per the owner, Haven Developments, it was important to create an environmentally sound structure, using high-reflecting materials, energy efficient controls and low impact mechanical fixtures. University Heights was built to last and serve the long-term needs of its tenants and patrons.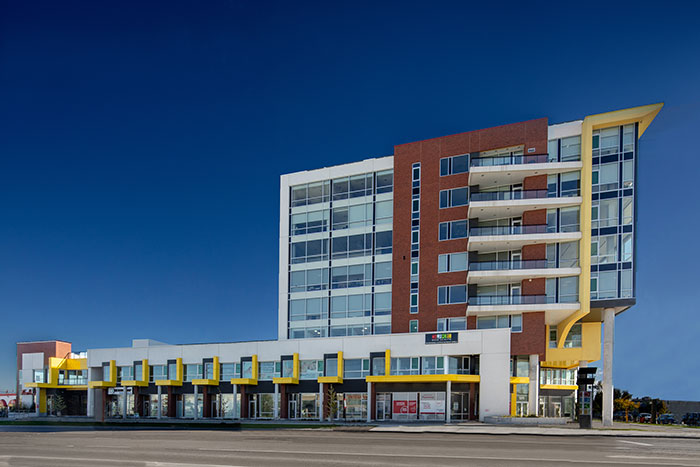 ACK Architects Studio Inc. teamed up with Construction Manager, Gillam Group, and Skyrise Prefab Building Solutions, installing a StoPanel system that would not only provide the aesthetic range, but a fully engineered, tested, code compliant prefabricated wall panel. By using a prefabricated StoPanel system, they would cover the challenges faced with appearance, and access limitations as these panels require limited to no scaffolding, much smaller installation crews, and deliver improved schedule certainty. The team designed this office condominium development that includes a 10,000+ square foot open-air green roof accessible from the third floor and a three-story underground parking area.

For the building envelope solution, SkyRise engineered, manufactured, and installed 40,300 sq. ft. of StoPanel Classic NExT ci and StoPanel Precast ci panels. StoPanel Classic NExT ci is a lightweight prefabricated panel that is energy efficient and durable, with continuous insulation, StoGuard® waterproof air barrier and the patented "Sto Wedge" to provide an integral means of drainage and a wide range of aesthetic possibilities. StoPanel Precast ci system, provided the lower level with an energy efficient replica of precast concrete, at the fraction of the weight of precast concrete, and included Sto Crack Defense to reduce the occurrence of surface cracking, which is great for high traffic areas.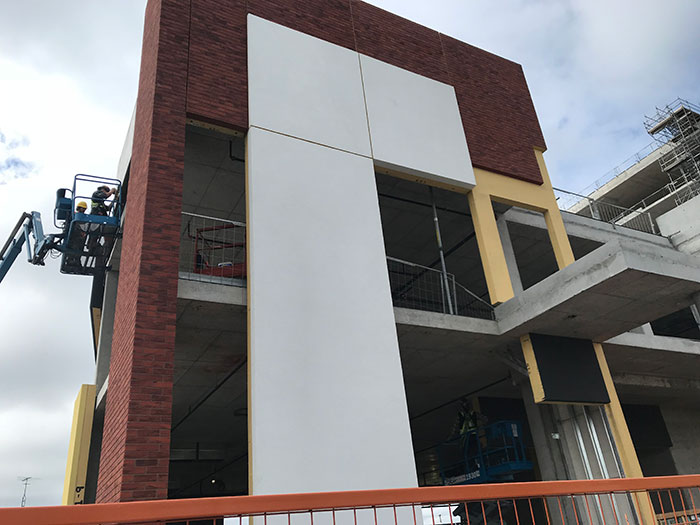 Located in metropolitan Toronto, this project featured extreme access limitations, diverse appearance requirements, and the need to quickly accommodate its first tenant, a restaurant with pedestrian and drive-thru access. The ground floor had to be highly damage-resistant, while upper levels incorporated multiple finishes and installation constraints.

StoPanel Precast ci was installed on the ground floor to manage the demands of pedestrian and vehicular traffic. Lightweight StoPanel Classic ci panels simplified installation on higher elevations and allowed a variety of appearances to be easily installed using StoSignature® Stone, a customized surface aesthetic, and StoCast Brick, a prefabricated, highly customizable and versatile resin cast brick shape that is flexible, lightweight, sustainable, durable, and looks like traditional brick at the fraction of the cost

Access limitations and schedule concerns were readily managed by installing StoPanel prefabricated wall panels. Haven Developments and Gillam Group were delighted with the results and will continue to rely on SkyRise Prefab Building Solutions for projects that benefit from their specialized expertise.

This project is another example of modern construction practices with a smarter form of wall design and construction. Adding StoCast Brick to the wide range of finishes Sto offers to Sto Panel affiliates and its customers only helps in speeding up the construction phase of the panels while providing the ultimate aesthetic flexibility to the designers.
@StoCorp #StoCorp #building #offices #stoventec

For other relevant searches, you might want to try: