architecture - engineering - construction
Cornell University Solar Decathlon Silo House
Cornell's 2009 Solar Decathlon entry, the "Silo House," consists of three interconnected, cylinder-shaped modules, each about 16 feet in diameter, housing the kitchen, bedroom and living room. Designed net-zero, the home's 40 photovoltaic panels generate more energy than the home uses. The walls of this "post-agrarian" concept home were built with Gold Bond® BRAND ¼-inch High Flex® Gypsum Board. The house also features an integrated solar thermal system and evacuated tube collectors that heat the space and water. The Cornell Solar Decathlon team included representatives from all seven Cornell colleges and the graduate school of business.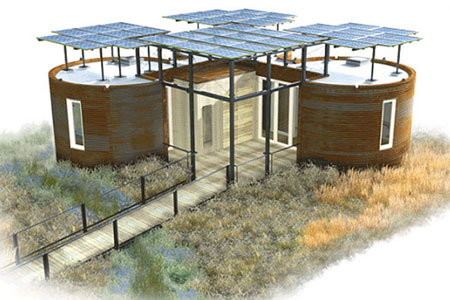 LEED: Not applicable. Competition showcasing energy saving designs.

Project Description:
Cornell University students competed in the biennial Global Solar Decathlon with their "Silo House" which took seventh place in the competition. Twenty other schools competed from five countries. The Silo House featured four cylinders connected by a courtyard. The students used Gold Bond ¼-inch High Flex to build the walls of the concept home.
Gold Bond® High Flex® Gypsum Board
Gold Bond® BRAND High Flex® Gypsum Board panels consist of a fire-resistive gypsum core encased in heavy natural-finish paper on the face side and strong liner paper on the back side. The face paper is folded around the long edges to reinforce and protect the core, and the ends are square-cut and finished smooth. Tapered edges allow joints to be reinforced with Proform® BRAND Joint Tape and concealed with Proform® BRAND Ready Mix or Quick Set Setting Compounds. For optimum mold performance, ProForm® BRAND XP® Ready Mix is recommended for use.
Basic Uses
High Flex Gypsum Board is specifically designed for radius construction such as curved walls, archways and stairways. It can be used for both concave and convex surfaces. High Flex Gypsum Board is typically applied in double layers.
Advantages
Lightweight, cost-efficient material that readily accepts a wide range of decorative finishes.
High Flex Gypsum Board is easily cut for quick installation, permitting painting or other decoration and the installation of metal or wood trim almost immediately.
The gypsum core will not support combustion.
Expansion and contraction under normal atmospheric changes is negligible.

For other relevant searches, you might want to try: