architecture - engineering - construction
Decorative Grilles in Brooklyn Heights Historic Neighborhood
The development of the Brooklyn Heights neighborhood as a residential district began in the 1830s when ferry steamboats first became popular. Uniquely located as a hub for these ferries, the Brooklyn Heights neighborhood became America's first suburb. Most buildings in the neighborhood are built pre-Civil War and some before the turn of the century.

Today, the eastern boundary of the He­ights follows a curved line representing the separation of the old 19th-century residential homes and churches, to the business center of Downtown Brooklyn. To see a full map of the heights neighborhood, click here.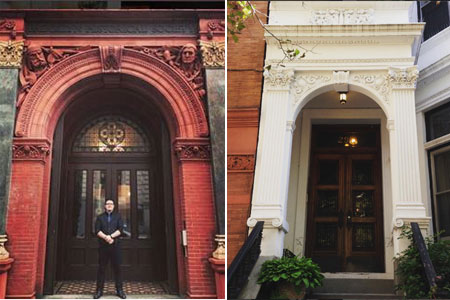 Preserving Brooklyn Heights
The Brooklyn Heights Association was established in 1910, and its first address included fighting economic challenges and the new construction of the Brooklyn Bridge. However, throughout the years, as the old charm and beautiful homes were sought out for by residents and property owners, the association began fighting for the preservation of the neighborhood. In 1965, the New York Landmarks Preservation Act declared Brooklyn Heights the first historic district in NYC.
19th-century architectural elements in Brooklyn homes
Restoring the look of these homes and their interior elements is something residents in the old Brooklyn Heights neighborhood are passionate about. If you have ever been in a 19th-century home you would notice that during this period of time, molded cast iron, bronze or brass grilles were designed to cover air vents for architectural reasons. Why were these intricate grilles so important?
Most homes in the 19th century
only had fireplaces for heat, and if you had central heat, that was something homeowners wanted to show off. These intricate ventilation covers added eye-catching elements to the room that drew everyone's attention.
If you're passionate about preserving the look and historical elements in your home, Coco's ability to custom design architectural grills make it easy to match vintage grilles, much like what you would see in the Brooklyn Heights neighborhood. Our metal crafting selection offers many options—choose from several popular materials that can match the existing grilles, including:
Aluminum— finished in a satin, mirror polish, clear anodize, anodized color, baked enamel color (liquid or powder coat) or a primed for field painting.Brass— available in satin and mirror polished finishes, as well as several shades of statuary bronze, antiqued and blackened bronze.
Bronze— available in satin and mirror polished finishes, as well as several shades of statuary bronze, antiqued and blackened bronze.
Stainless steel—finished in a satin, blackened, or mirror polish, or prepped for plating.
Steel—prepped for plating, or available in a primed finish, blackened, or baked enamel colors.

For other relevant searches, you might want to try: