architecture - engineering - construction
News
Energy Efficient Crawl Space Foundation Vent Covers
Sized to fit a typical concrete block opening.

Our vent fits a rough opening of minimum 14 1/2 inch x 7 inch.

The overall face plate size is 19 1/2 inch x 10 inch. Threaded steel rods are 9" long.
Proper venting of homes with a crawl space foundation has long been a challenge for homeowners.

Proper crawl space foundation ventilation prevents the buildup of mold and moisture.

Most homes have fixed vents that limit airflow in warmer weather and that do not seal well or at all in winter.

Our vent provides ventilation, and the insulated panel can be installed during the heating season. This allows you to add some heat into your crawlspace foundation to keep your pipes and your floors from freezing.

The vent is insulated and serviced from the outside, so there is no need to enter the crawlspace foundation.

Our vent can be retrofitted to existing homes, is easily serviced, easily insulated, and easily adapted to meet the changing seasons.

The dual-mode flexibility of our Crawl Space Foundation Vent Cover provides maximum ventilation in warm months and maximum insulation in cold months.

Nearly 19 million homes in the United States have crawl space foundations where homeowners face these ventilation dilemmas every year.

This vent is the only product available that help homeowners solve these problems.

Faceplate is made of heavy duty, durable, gray color ABS plastic. No painting needed (but can be painted if desired). Stainless steel screen is rodent proof.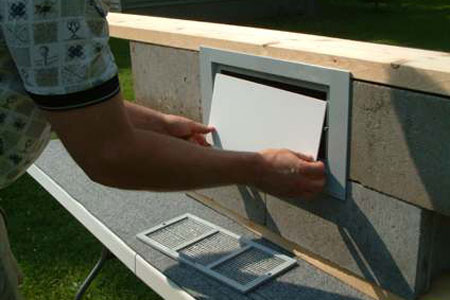 Net Free Area
Our vents have a 80% free area = 61 square inches free air opening per vent.
Includes:
Face Plate
Summer Stainless Steel Screen Door
Winter Door/Sealer Plate
All related Installation Hardware!
Benefits:
Homeowners with homes built on crawlspace foundations, our Crawl Space Foundation Vent Cover was designed specifically for you.
Our Crawl Space Foundation Vent Cover can be retrofitted into existing homes or installed into new homes.
Industry experts love this new patented product.
Our Crawl Space Foundation Vent Cover allows 50% more free air flow during the non-heating season and also has a heavy duty stainless steel screen that keeps the vermin from living in your crawl space foundation/home.
Stop wasting your heating dollars get rid of your old vents install our Crawl Space Foundation Vent Covers.
Our vent can be installed, insulated and sealed from the outside of your home.
High quality affordable product.
Increases crawl space foundation air flow by over 50%.
Saves money by helping to reduce heat loss through crawlspace foundation vent covers.
Aids and assists in reducing moisture.
Keeps rodents and mice out.
Insulate your crawlspace foundation from outside your home (if desired).
Helps prevent pipes from freezing.
Easy to use: open and close from the exterior.
Easy to clean.
Heavy duty stainless steel vermin-proof screen.
URL:
http://www.batticdoor.com/crawlspacevent.html
For other relevant searches, you might want to try: