architecture - engineering - construction
News
Expansion of Nystrom's FM Approved Smoke Vents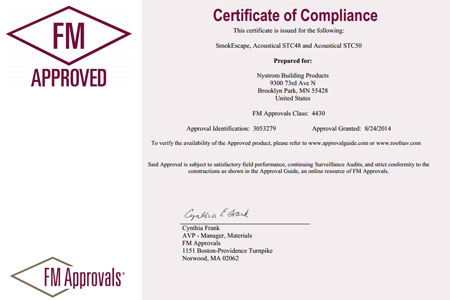 Nystrom's SmokEscape and new Acoustical STC48 and STC50 Smoke Vents are FM Approved per approval standard for heat and smoke vents class number 4430. Of significant mention, Nystrom's Smoke Vents have the industry's largest size capability, configurable options, and attained a 135psf wind uplift, which differentiates Nystrom as the industry leader in Smoke Vents.

About Nystrom's Smoke Vents Product Line

Nystrom offers a complete line of smoke vents designed to meet all fire and life safety building codes. Roof top smoke vents automatically open to release heat, smoke, and noxious fumes in the event of a fire emergency, as required by International Building Code. (IBC 910 Heat & Smoke Vents, IBC 410 Stages & Platforms, IBC 3004 Hoistway Vents). Contact our expert sales department for guidance in selecting smoke vents on your next project.

About Nystrom

Nystrom is a global supplier of complementary building products and services which include miscellaneous and specialty construction items. Nystrom partners with our clients to simplify specifying and procurement; minimizing cost and time associated with the construction project workflow. Key customers have direct access to people who immediately take care of their needs and take full responsibility for the process from beginning to end. The right information and the right support improve client productivity and profitability.
For other relevant searches, you might want to try: