architecture - engineering - construction
Faux Leather Interior Wall Panels from Decorative Ceiling Tiles
We offer a huge selection of faux leather interior wall panels for your home, the designer in the picture chose a color that matches the furniture perfectly so that everything balanced nicely and continued to ensure that the room felt even, balanced and looking amazing.

If you don't have leather furniture, but maybe a micro suede or another material, you could always create an incredible effect with a faux tin wall panel or even trying some of our hand painted styrofoam decorative wall panels. These can be made to order, they come in almost any color and they look amazing when they match or show off your furniture. Many families and photographers also use these as backdrops for holiday photos and family portraits.

If you are looking for that extra finish for your bedroom why not use our faux tin decorative interior wall panels to accent a shelf, faux leather wall panels as a headboard or even in your living room as wall art by spacing them out across the room.

How to install decorative interior wall panels video

One of the nicest things when you buy decorative interior wall panels is that they are extremely easy to install. You don't even need a contractor to help! The important thing is that you properly measure your wall space or area and then make sure you order the exact amount or a few extra to fill the space. We feature numerous videos on how to install interior wall panels from Faux leather to metal and Styrofoam, and we are here to help answer any questions that you may have.

Creating an amazing accent wall as a centerpiece, to fill a room or create an incredible effect on your home has never been easier. You only need to find a style that you like and then measure the area and buy decorative wall panels that will finish your new show stopping masterpiece. Watch our how to install decorative wall panels video or call us for a couple of pointers. We are always happy to help with all of your needs from selection to installation and enjoying if you send us a photo of your finished space.

How To Install Faux Leather Wall Panels

With a minimum effort you can create a show-stopping experiance with our Faux Leather tiles. This product is perfect for ceilings, accent walls and headboards. We are going to show you in this short video how to install them on a walls due to its durability and easy maintenance, ceiling is very much the same application except you will be looking up.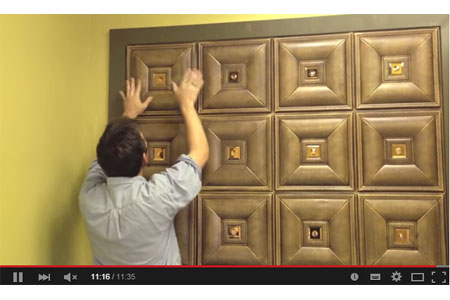 Material and Tools Needed for Faux Leather Tiles Install

Miter or a Table Saw - If you are installing full panels only please dis-regard this option as you will not need to use the saw. If however you need to filling a whole wall and have to cut a power saw is a must.


Adhesive Options:


Power Grab (loctite) - Comes in a tube and it is available in most hardware stores.
Hot Glue - You will also need a hot glue gun.



Caulking Gun – If you decide to use Power Grab adhesive you will need this, look for one in your local hardware store.


Level – A four foot level or longer will be needed to help you with finding your starting point.


Measuring tape – used for laying out your ceiling design


Carpenter's pencil – any pencil will do, but the marks of a heavy duty carpenter's pencil are easy to see


Chalk line – used for installation guidelines


Ladder - Depending on your project you may need a ladder.


Project Estimator - For your convenience please use our tile project estimator.

For other relevant searches, you might want to try: