architecture - engineering - construction
Featured project: custom lead lined enclosure
Recently MarShield was asked to make an NEMA 12 enclosure that will become a lead lined electrical enclosure to provide radiation shielding to a "sensitive electrical board". The unit is known as a voltage regulation transformer control board shielded/cooled enclosure. Marshield specializes in providing custom lead lined enclosures that meet a customer's exact needs. You don't have to buy from a catalog.
The below picture shows our lead shot bags being used as shielding in an optical tube at a Laboratory.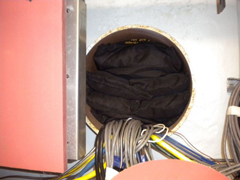 From a small one-off cabinet to an entire room system, our qualified design experts will work with you to meet your specific requirements. With 35 years of experience with custom lead furniture our attention to detail shows every step of the process from the moment your order is entered until it arrives at your doorstep.

For other relevant searches, you might want to try: