architecture - engineering - construction
Federal Security Bollard Series
I. BOLLARD
Bollard shall be smooth seamless extruded 6063-T6 aluminum with cast aluminum access cover.

II. FINISH
Fixture finish shall consist of degreasing, phosphate acid etching with 140° + de-ionizing water, rinsed, oven dryoff and top coated with a thermoset TGIC super polyester powder coat finish designed not to chalk or fade for many years. All Niland Company powders must pass a minimum 3000-hour salt spray test for corrosion resistance.

III. ANCHOR BOLTS
Standards 12 feet high or less shall use 1/2" x 18" L-type anchor bolts. Standards higher that 12 feet shall use 3/4" x 24' L-type bolts.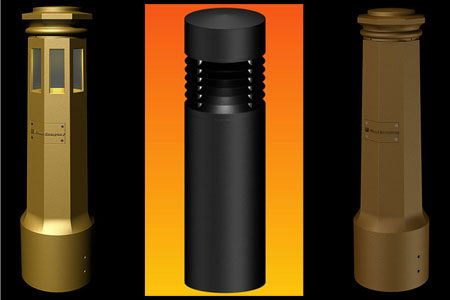 FINISHES
Five Year Powder Coating Warranty
Niland Company factory-applied powder coatings are warranted against peeling, excessive fading and cracking under normal climatic exposure for a period of five years from date of shipment. Damage to finish coating caused by abuse or mishandling during installation is not covered by this warranty. This warranty is limited to the repair or replacement of the material involved and does not include reimbursement of consequential expenses such as installation or removal of equipment or transportation costs.

I. STANDARD FINISH
Satin aluminum achieved by rotary sanding, blasting and chemical etching.

II. THERMOSET POWDER PAINT FINISH
Pre-treatment shall consist of degreasing phosphate acid-etching with 140° and de-ionizing water rinsed and oven dried.

FINISH COAT
Thermoset TGIC super polyester powder coat finish electrostatically applied, oven cured and bonded at approximately 420° F to a minimum dry film thickness of 1.6 mils. All Niland powders must pass a minimum 3000-hour salt-spray test for corrosion resistance. The National Association of Architectural Metal Manufacturers, Metal Finishes Manual rates the outdoor life of these powders at 15-plus years

HOUSING
The bollard top shall be core cast aluminum. Aluminum shall be certified as pure #356 alloy, free of any porosity, foreign materials or cosmetic fillers. Castings shall be uniform wall thickness with no warping or mold shifting. Minimum wall thickness shall be 3/16". Electrical components are mounted to the ballast canister. The ballast canister shall be mounted securely within the bollard with stainless steel screws

III. ELECTRICAL
All electrical components and materials shall be UL-recognized and wired by a certified UL technician. All Niland ballasts are high power factor rated for 30°C/-20°F starting. Medium and Mogul base sockets are 5KV rated. The electrical assembly is prewired with quick disconnects for servicing. Fixture shall be UL certified for wet locations and carry all HID listings required. Ballast components shall carry the ballast manufacturers limited warranty of two years. Optional QL Induction ballasts and lamps.

WARRANTY
Niland Company warrants to repair or replace, at our option, any equipment that fails due to defects in material or workmanship within one year from date of shipment. This warranty does not include failures as a result of improper installation, mishandling or misapplication. This guarantee is limited to repair or replacement only and does not include reimbursement for expense of installation, removal of equipment, transportation or any other expenses that may be incurred. Authorization must be obtained from Niland Company in El Paso, Texas before any material is returned.

For other relevant searches, you might want to try: