architecture - engineering - construction
Monarch Series from Niland Co.
Features:
Self-Cleaning Heat Sinks
Supreme Heat Ventilation
Crisp White Light
Up to 62% Electricity Savings
Available as Type II, III or V
40ft Maximum Mounting Height
90 Individual High Power LEDs
Up to 400 watts equivalent
IP 65 Rated LED Chamber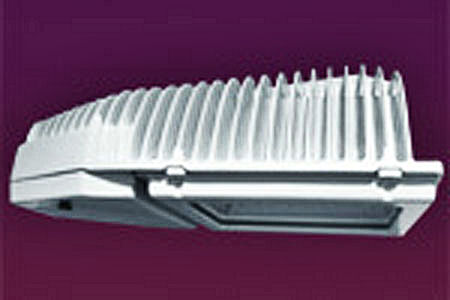 HOUSING
The fixture shall be core cast alumlnum. Alumlnum shall be certified as pure #356 alloy, free of any porosity, foreign materials or cosmetic fillers. Castings shall be uniform wall thickness with no warping or mold shifting. Minimum wall thickness shall be 3/16". Electrical components are one piece pug-in. LED assembly unit shall be mounted with four stainless steel screws. The core ports for ventilation located just beneath canopy and fixture finial increase thermal management and over all LED longevity.

LED POWER SUPPLY
Up to 100,000 hours Mean Time Before Failure (MTBF). Each factor adjustable setting draws between 300 to 600 milliamps of power. Only 1 power supply is used for up to 125 LED watts each enclosed fixture. Multiple circuit detection and protections. Each unit is rated up to 16 amps of power. Input voltage range of 90-305VAC. Minimum operating temperature -22°F (-30°C) Maximum operating temperature 140°F (60°C).

LED CIRCUIT BOARDS
90 individual, CREE XPG LED's rated for up to 100,000 hours service life. 5000 Kelvin white LED's are standard with a CRI Of 72, 3500 Kelvins "warm white" LED's are optional. Lead free and RoHS compliant.

MOUNTING
Fits 1½ to 2½ diameter O.D. horizontal tenon. Mounted with (4) ⅜" bolts w/ (1) "U" clamp.

CERTIFICATION
The fixture shall be UL Certified for wet location use, and all HID listings.

FINISH-AAMA-2604-5
Fixture finish shall consist of degreasing, phosphate acid etching with 140°+ deionized water, rinsed, oven dry off and top coated with a thermoset TGIC super polyester powder coat finish designed not to chalk or fade for many years. All Niland Company powders must pass a minimum 3000-hour salt spray test for corrosion resistance.

WARRANTY
Quick 60+ month warranty on LED module and electronic driver.

About Niland Company

Antique street lights and outdoor street lamp products are our specialty. The Niland Company is a designer, manufacturer, and seller of many different styles of streetlighting systems. Browse our online catalog and generate a quote directly from our website! Whether you are developing a municipal or private project, or whether you only need one pole, Niland has a unique and well manufactured product to fit your needs. The Niland Company manufactures and sells hundreds of models of outdoor lighting and site furnishing products. Browse our catalog of Municipal Cast Iron and Steel Products or our Niland Series Cast Aluminum products.

You can also design your own customized pole by choosing from our components only sections, all of which are completely inter-changeable. All of our outdoor lighting products are fabricated in our 90,000 square foot finishing facility here in El Paso, TX. We also offer custom Plastic Rotational Molding and custom Powder Coating services to our clients.

For other relevant searches, you might want to try: