architecture - engineering - construction
Feeney, Inc. 'Opens up the View' with Introduction of DesignRail® Single Corner Post
Feeney, Inc., a leading manufacturer of high quality stainless steel and aluminum railing systems, has unveiled a Single Corner Post for its DesignRail® Aluminum Railing System with CableRail infill. The new offering lowers overall material costs by requiring only one post in corners instead of two while also providing a more open feel and view.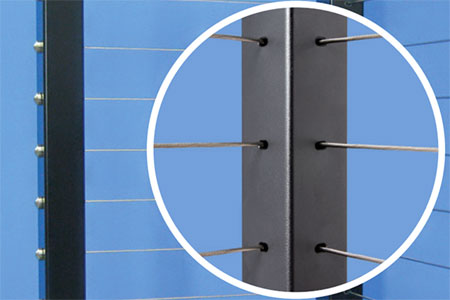 "We are always looking for ways to make our products more aesthetically appealing and, and the same time, to offer added value," said Andrew Penny, vice president of marketing and advertising, Feeney, Inc. "By reducing the number of posts in the frame, our Single Corner Post not only offers a more 'view friendly' railing but also reduces installation time and material expenses. We are excited to share this latest innovation."

Compatible with the DesignRail® Aluminum Railing System, the Single Corner Post by Feeney is specially engineered to withstand cable tension in both directions, and is pre-drilled with horizontal slots that allow cables to easily pass through a 90-degree corner. Feeney's unique curved lacing needle enables installers to feed the cable through the post quickly, saving time on the job.

The Single Corner Post is offered in standard DesignRail® heights, as well as custom heights, and for base mount, fascia and fascia bracket mount applications. It is available in all of Feeney's Classic and Express Yourself DesignRail® colors.

For other relevant searches, you might want to try: