architecture - engineering - construction
Full Surface Mount Cable Railing Kit - 1000ft. Stainless Steel Cable, End Fittings, & Tools
Unsure what you need to turn your empty railing frame into a cable railing system? Does your project not allow for standard through-post fittings? This kit offers an alternative to our classic Full Deck™ Cable Railing Kit with fittings that attach to the inside surface of your terminal posts. Complete with not only cable and fittings, but also necessary tools and maintenance products, this kit has everything you need for a standard 3-4 run deck railing.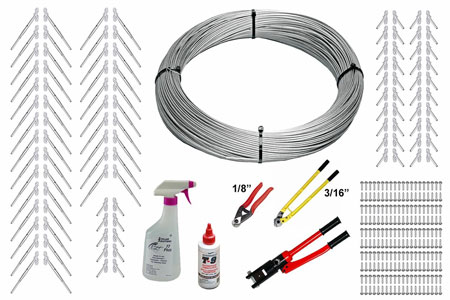 Includes:

1000 feet of 1x19 cable (1/8" or 3/16")
50ea Surface Mount Toggle Turnbuckles
50ea Surface Mount Toggle Terminals
200ea Mounting Screws
1ea Citrisurf® Passivator
1ea Boeshield T9
1ea Cable Cutter
1ea Cable Crimper
Assembly Instructions
NOTE:
The quantity of cable and fittings included in this kit will cover any standard 3-4 run railing system (3 runs max if 42" height or 4 runs max if 36" height). Purchase additional Cable and Fittings as you require. This kit automatically comes with our most economical and popular end fitting type, however, other options are available in our End Fittings Shop.
Specifications:
316 Marine Grade Stainless Steel cable and fittings
Tough and durable, with lasting beauty
Slender, simple design keeps view open and ship-weight light
Easy to cut, crimp, and adjust in the field.
Can be used with any frame regardless of material or application, indoors or out
3/16" option will be split between two packages because of weight
CitriSurf is a registered trademark of Stellar Solutions, Inc., McHenry, IL US

For other relevant searches, you might want to try: