architecture - engineering - construction
Cable Railing for Indoors: Stair, Lofts and more
Finding the right railing for a new staircase, loft, or other indoor area can be difficult. Most traditional railings take up and break up space.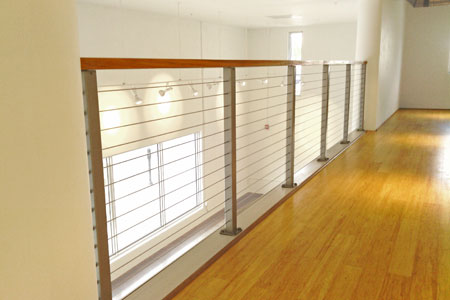 Natural Aluminum Loft Railing with Customer's Wood Top Rail
The minimal design of a cable railing system instead keeps your layout open and expansive. Offered in a variety of color, material, and shape options, you'll be sure to find the perfect system for your home.

Even if you already have a frame in mind, fill it with our marine-grade stainless steel cable infill and fittings for a stylish and near-invisible end result.

At STAINLESS CABLE & RAILING™, we recognize the long term investment you're making when choosing our products, and how important your decision is. STAINLESS CABLE & RAILING™ offers only the highest quality and most affordable aluminum handrail/cablerail fittings and assemblies for your deck and balustrade railing project.

BENEFITS
SIMPLE
Enjoy an unobstructed view. Safety shouldn't come at the cost of your view. Rather than blocking your surroundings like traditional pickets, cable railing's minimal design places focus on what's beyond it. Not only that, but the cable itself offers a chic, modern aesthetic that classes up any property, whether used indoors or outdoors, residential or commercial.
Cable requires hardly any maintenance. In contrast, both glass railing and traditional pickets require a lot of work to keep them looking good. Glass easily gets dirty, smudged, chipped, fogged… the list goes on. It also creates a deceptive barrier to birds, which may injure or even kill themselves trying to pass through the glass. Pickets, regardless of the materials used to make them, also require regular cleaning as well as regular fixing for any "issues" that arise down the road.
Installation is easy. All of our aluminum products arrive cable ready, powder coated, with predrilled holes and step-by-step instructions, to make your installation as quick and effortless as possible.
STRONG
We use quality, durable materials. Our products are made with 316-grade stainless steel, the same material used in sailboat rigging to resist the corrosive elements.
The design we use is just as robust. Our CableView Railing™ aluminum posts are made to work exclusively with stainless steel cables. They are NOT the common hollow posts typically seen in picket and glass railing systems. Our posts', internal webbing combined with 6063 T6 grade aluminum makes them the strongest on the market. Strong posts allow for higher cable tension and minimal post deflection.
Guaranteed not to crack, peel, or blister. The powder-coating on all aluminum railing components is baked on and meet or exceed AAMA 2604 South Florida Outdoor Exposure and 2604 Salt Spray Resistance tests.

For other relevant searches, you might want to try: