architecture - engineering - construction
Glass Countertops for Kitchens, Bathroom Vanities and Bar Tops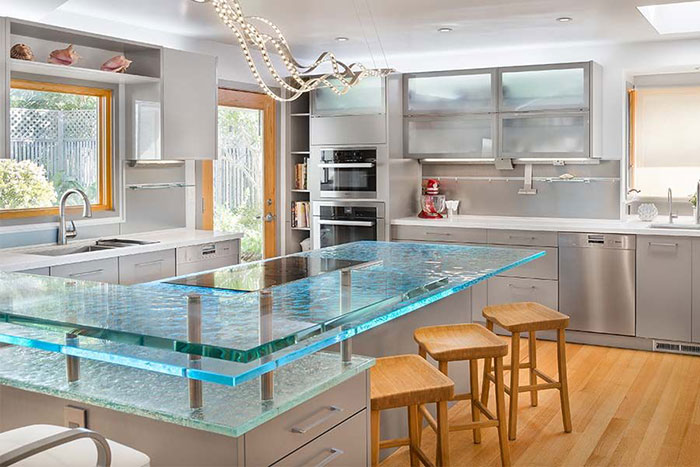 Wow – that is what friends, neighbors and family will say when they see your contemporary glass countertop in a kitchen, bathroom vanity, outdoor bar or man cave.
This modern material provides color, pattern and lighting options not available in other types of counter materials. Explore the benefits, product options and design possibilities of sleek glass countertops through Innovate Building Solutions.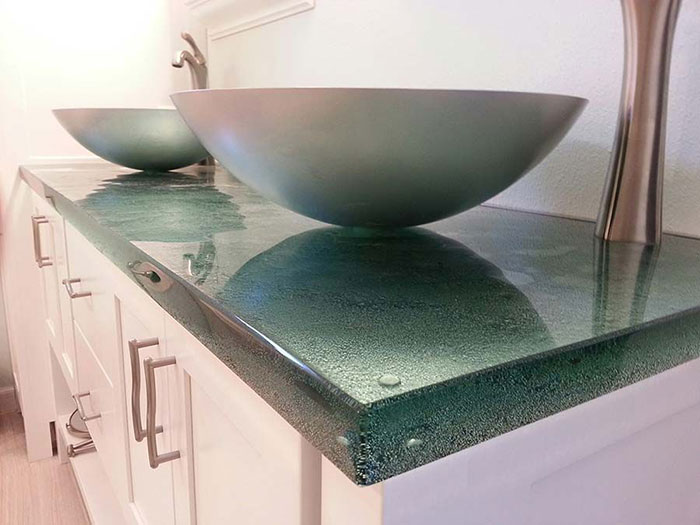 Sleek, modern contemporary and eye-catching would be just some of the adjectives describing glass countertops. Let's look at some of the benefits you can expect from putting this material into your home or business:

Design flexibility – Glass counters can be made in virtually any size, shape and thicknesses. Multiple textures, finishes, digital images and colors can also be included in the glass. Custom applications are almost limitless. You can even use this material for shelves and walls.

Low maintenance and easy to clean – Glass is low maintenance. It is non-porous and will not absorb dirt, dust or other debris. A damp cloth or sponge is sufficient for cleaning. Mild, non-abrasive surface glass cleaners can be used to clean tougher messes.

Sustainable eco-friendly material – Glass is a long-lasting and made from natural materials – perfect for someone who wants a green friendly home.

Sleek contemporary look – The smooth look of glass makes it a favorite in modern, contemporary and even traditionally designed kitchens, bathrooms, bars and outdoor spaces. It is easy to match with any décor.

Resistant to heat and moisture – High levels of durability are a key feature of a glass countertop. We recommend putting a trivet or hot pad below a hot pan or baking dish.

Eliminate mold and bacteria – Glass is non-porous so you don't have to worry about mold or bacteria growing inside your counters.

Light it up – Illumination is a distinctive feature of glass. The ability to move light through the surface make a glass counter much more than just a surface – it's a 24/7 piece of art which can provide lighting and fascination throughout the entire day.

Access to Innovate Building Solutions design and installation specialists – The design team at Innovate Building Solutions is here to help you with your glass needs. Whether you want a cool glass counter, glass floor or even glass stair treads we look forward to assisting you.
@innovatebuild #innovatebuild #shower #remodeling #bathroom

For other relevant searches, you might want to try: