architecture - engineering - construction
Gold Bond Building Products from National Gypsum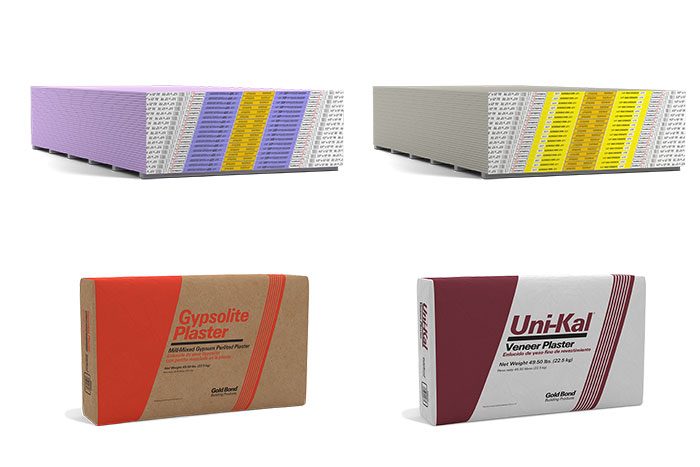 WHY GOLD BOND
The trusted line of gypsum products
Constantly innovating for the future
Gold Bond Building Products doesn't just fill the commercial and residential needs of our partners, we provide solutions for your changing construction demands. How? With major innovations in gypsum products that help increase productivity and profitability.
---
OVERVIEW
Industry's most complete line
Whether you want to enhance acoustical performance or need additional abrasion, impact or fire resistance, Gold Bond products deliver with our mark of excellence.
Our line includes wall board, ceiling board, sheathing, shaftliner, tile backer, prefinished board and plaster products. Plus, you can assemble a wide variety of complete systems with Gold Bond products, including walls, partitions, floors, ceilings and roofs.
---
ASK FOR PURPLE
The right choice for your next project
Moisture-, mold- and mildew-resistant, the PURPLE family of products delivers innovative performance that goes well beyond what's possible with standard drywall.
---
ROOFING
We've got you covered with DEXcell®
Gold Bond's line of DEXcell roof boards covers the spectrum of commercial roofing applications. Whether your building shelters expensive equipment or valued people, DEXcell products will cover more than your roof.
---
INNOVATION
GridMarX®
Our innovations continue to change the way you build. Our patented GridMarX® installation guide marks have proven to reduce material costs and increase efficiency on the job site.
Standard on our gypsum board products, GridMarX are printed on the face paper surface to help installers instantly identify stud locations and make accurate cuts without having to pencil in or snap chalk lines. GridMarX increase probability/productivity and quality every step of the way!
@NationalGypsum #NationalGypsum #construct

For other relevant searches, you might want to try: