architecture - engineering - construction
GSFMO and Penetron work to secure food supply in Saudi Arabia
The October 2017 completion of the expanded grain silos and flour mills in Al-Ahsa, Saudi Arabia, is only the latest upgrade by the Saudi government's Grain Silos & Flour Mills Organization (GSFMO) to expand storage capacity. PENETRON ADMIX ensured complete impermeability of the concrete to protect the valuable grain.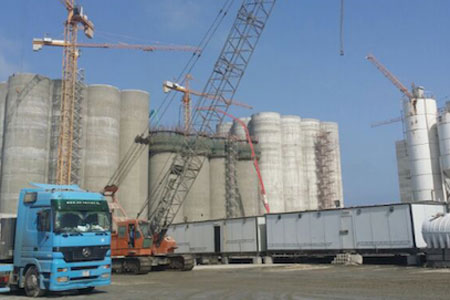 PENETRON crystalline technology provides optimal durability for GSFMO's concrete milling and grain storage facilities: 3.2 million tons of storage and 10 flour mill facilities.
The Grain Silos & Flour Mills Organization (GSFMO) plays a key role in the Saudi Arabian economy by importing the kingdom's flour needs and maintaining a strategic stock that is sufficient to produce and distribute flour. This US$132 million project expanded the country's grain import and processing capacities with the addition of two new concrete grain silos, each with a storage capacity of 60,000 tons, and a new concrete flour mill that increases the Al-Ahsa facility's throughput to 600 tons of flour per day.

Approximately 5,500 m3 (7,200 yds3) of concrete were treated with PENETRON ADMIX to ensure complete impermeability and optimal durability of the new Al-Ahsa silos.

"The GSFMO has been investing in its milling infrastructure over the last few years to increase its total milling capacity," notes Jozef Van Beeck, International Sales & Marketing Director of The PENETRON Group. "Because we're dealing with enormous quantities of grain, PENETRON's role was to provide optimal durability for the concrete milling and storage facilities – and keep the silos absolutely dry throughout the life-span of the new structures."

Over the past 12 months, the GSFMO has also expanded grain storage capacity at numerous facilities across the country, with the help of PENETRON technology.

Dammam – expanded grain storage in the country's eastern province on the Persian Gulf, with PENETRON ADMIX added to about 15,000 m3 (19,600 yds3) of concrete for the head house and the administration building; PENECRETE MORTAR and PENEBAR SW-45were also used.

Jazan Seaport – on the Red Sea, this US$149 million expansion increased storage capacity to 120,000 tons of wheat in 72 silos. PENETRON ADMIX was added to 5,000 m3 (6,540 yds3) of concrete for the raft foundation structure and the walls of the head house.

Jeddah – this US$89 million expansion of the facility's head houses (that manage 140,000 tons of grain) used PENETRON ADMIX for their below-ground foundations, about 20 m (65 feet) deep.

Over the past 40 years, GSFMO has increased the storage capacity of its silos to 3.2 million tons, corresponding roughly to one year of the Kingdom's consumption. Today, the GSFMO has flour mills in 10 locations across Saudi Arabia.

"Because PENETRON crystalline technology can add 60+ years to the lifespan of a concrete matrix, we continue to work together with GSFMO on future projects," says Mr. Van Beeck.



For other relevant searches, you might want to try: