architecture - engineering - construction
Penetron Goes to Market – and Saves the Basement
Shortly before the August 2017 launch of the new Marine Products Distribution Center in Chuncheon, South Korea, the basement was flooded by an overwhelming surge of groundwater. PENETRON crystalline technology was quickly applied to stabilize – and waterproof – the concrete structure in time for the grand opening.

Chuncheon, a city of almost 300,000 inhabitants 50 miles northeast of the capital of South Korea, is the market center for the surrounding region. The Chuncheon city government invested approximately US $10 million to build a modern distribution center to supply fresh seafood at affordable prices to local citizens.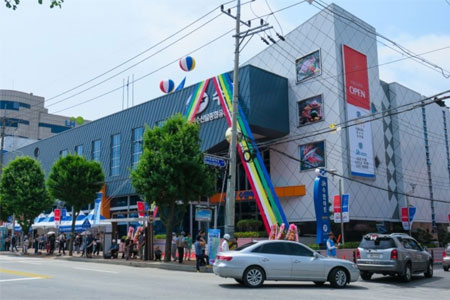 Sealed with PENETRON: The new Marine Products Distribution Center and its basement are now dry and durable, thanks to a combination of PENETRON crystalline products that waterproofed the concrete.
The Marine Products Distribution Center consists of a below-grade basement floor and three above-grade floors with an open area covering 4,600m2 (50,000 square feet) that includes a seafood market, a raw fish center, cold storage, and fish processing facilities.

"During construction, unexpectedly powerful hydrostatic pressure drove groundwater right through the basement walls," explains Jozef Van Beeck, International Sales & Marketing Director of The PENETRON Group. "Something needed to be done to salvage the structure."

When confronted with this degree of water penetration, an integral solution for the concrete matrix is most cost-effective and relatively easy to apply. Different from conventional membrane systems, an integral crystalline system reacts with the concrete to form a network of insoluble crystals in the pores and capillaries. These systems can be applied as a concrete admixture or as a topical coating that penetrates into the concrete, preventing any further incursion of water (and aggressive agents such as chloride ions) into the concrete.

"Almost immediately, water penetration resistance is increased and the concrete gains a permanent self-healing capability," adds Mr. Van Beeck. "And the long-term benefit is a vastly improved durability for the concrete structure."

PENETRON ADMIX was mixed into approximately 500 m3 of concrete during batching and added to the below-grade structure to protect the machine and fire pump rooms located in the basement. For extra protection, a layer of PENETRON topical material was also applied to the inside walls of the basement.

"The Marine Products Distribution Center is already a busy marketplace," says Mr. Van Beeck. "And the basement is now completely waterproof and dry."

For other relevant searches, you might want to try: