architecture - engineering - construction
Healing inside and out
Patient satisfaction is the heart of today's healthcare industry. And it's more than just a trend; it's a driving factor to success. Patients today are also consumers. They seek top-notch medical care and satisfaction with their experience at the healthcare facility. Patient satisfaction is shaping the way medical facilities are funded,* and as a result, medical facilities are working hard to provide both quality medical treatment and positive experiences for their patient-consumers.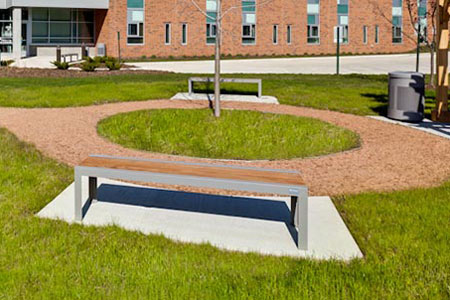 Maglin MLB1050B benches and MLWR600-32 waste receptacles at Mercy Housing, Johnston Center Residences, Milwaukee, WI
How can facilities satisfy their patients? How can they provide positive patient experiences? It's long been known that spending time outdoors is good for the spirit. Studies show that exposure to natural light can decrease pain and hasten recovery.** Healthcare providers are embracing outdoor natural settings as a place for patients to find respite from the stress of treatment and recovery.

Mercy Health System
Over the past five years, landscape architecture firm Ken Saiki Design has worked on a number of projects for Mercy Health System throughout southern Wisconsin and northern Illinois. Abbie Moilien, PLA with Ken Saiki Design says, "We really love doing healthcare design. We are seeing healthcare establishments investing in their outdoor spaces more and more. The return on investment in outdoor spaces is quite substantial - patient and employee satisfaction (is) really impacted by these everyday encounters."
Maglin Site Furniture has been a proud partner in many of the Mercy designs. "We take pride in the quality and strength of all of our products. Our seating options are designed with comfort and support in mind, while maintaining styles that shift seamlessly from one environment to another," says Jill Roberts, Sales Manager at Maglin. "Working with Ken Saiki Design on the Mercy Health projects has been a great experience, and definitely gives us insight into what works for the healthcare industry." Moilien agrees, "We use Maglin products for a lot of reasons. The design and quality are superb! I personally really appreciate the customer service at Maglin - the most friendly and helpful staff!"
Expect to see continued growth in outdoor space. Designers like Abbie Moilien continue to meet the demands of the medical community by creating new and exciting spaces to satisfy patient demands. "A huge trend in healthcare is rooftop gardens that offer easy access to outdoor space and great views out of tower windows," says Moilien.
Outdoor environments need products that can handle whatever mother-nature serves up. The high quality and range of products, as well as a reputation for excellent customer service, makes Maglin a perfect fit for the healthcare industry.

For other relevant searches, you might want to try: