architecture - engineering - construction
How to Spruce Up Your Concrete Pool Deck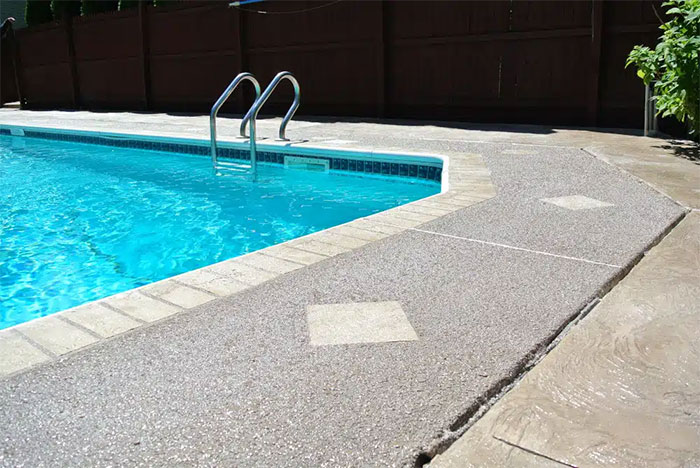 Your concrete pool deck should be the perfect place for lounging in the summer sun. But poor maintenance or prolonged bad weather can make your pool a source of frustration instead of relaxation.

Here we take a look at some great ways to revamp your concrete pool deck, from practical protective coatings to creative reinventions using color and stenciling.
Impact of Weather on Pool Decks
Unless you take preventative steps, bad weather can seriously damage your concrete pool deck, so if you live in a region that gets a lot of rainfall or has very cold winters, you'll want to pay attention to the following section. Pool owners in Florida can get out of their hammocks too though, because sunny weather can also damage unsealed concrete.
Moisture
If you had to pick a word to describe the ideal pool, "dry" wouldn't be it. However, moisture can be your pool's worst enemy: an untreated concrete pool deck is vulnerable to rainwater and humidity, with moisture able to seep into the material. This can become a major issue if the temperature drops below freezing.
Snow and ice
Freezing temperatures can be a scourge on pool decks in various ways. For one, any moisture retained within the concrete will expand if it freezes, and this can lead to cracks in the concrete. Cracks not only look terrible, they will also contribute to more unwanted moisture retention.

Another factor comes into play if you sprinkle de-icing salt around your pool to prevent slippages. Salt is great for preventing ice related injuries, but it's also abrasive and can damage any sealer or topcoat on your concrete. 
Sunlight
If you own a pool, chances are you enjoy the sunshine. However, you can have too much of a good thing: the sun's UV rays can make concrete brittle and cause coloring to fade over time, turning a vibrant pool deck into an unsavory eyesore.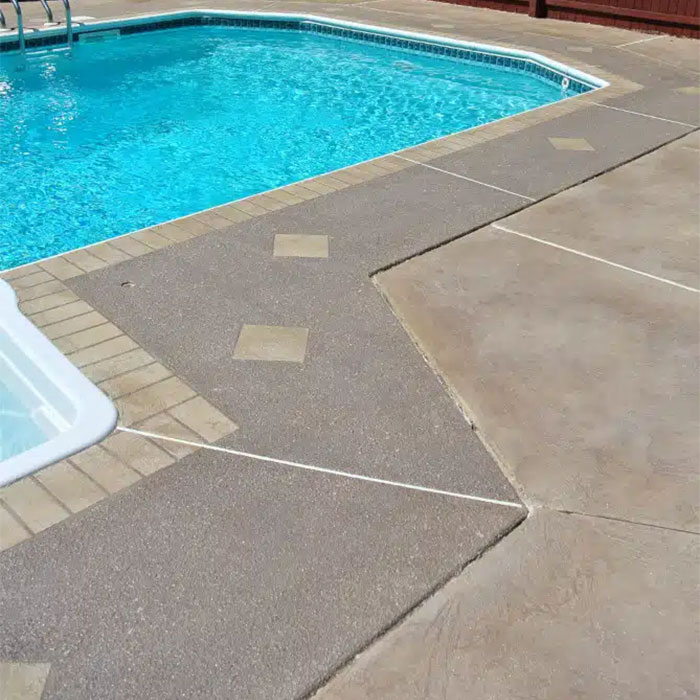 Protecting Your Pool Deck from the Elements
When it comes to protecting your concrete pool deck from the elements, there's one thing you need to focus on. Forget tarps. Forget roofing. Just seal, seal, seal.

Whether you have a brushed or stamped concrete pool deck, a quality sealer will keep a deck in good shape through the coldest winters and sunniest summers, while also protecting against damage from chemical cleaners, furniture scrapes, and other hazards. 

Solvent-based acrylic sealers are most commonly used on pool decks because of their protection and color-enhancing capabilities. But they aren't the only option. Siloxane modified MMA sealers penetrate concrete deeper than most acrylic sealers, providing superior resistance to de-icing salt, saltwater pools, and nasty weather.

However, if you live in a cold climate where daily de-icing during the winter months is necessary, you'll need to reseal your pool deck every other year to keep it protected. For a lower maintenance option, opt for a polyaspartic polyurea-based sealer. This option still protects your pool deck but requires re-sealing less frequently.

Our recommended siloxane modified MMA sealer for pool decks is Dekguard, a non-yellowing, low-gloss, low-viscosity sealer that will last three to five years in non-snowy areas or two years in snowy areas. For a longer lifespan and the highest level of protection, a polyaspartic sealer like Perdure P72 can be used instead. An extra consideration for concrete pool decks is the possibility of slippage when that sealed top layer gets wet. Our polyaspartic sealers can be mixed with an aluminum oxide Anti Skid Additive, which is barefoot-friendly in lower dosages.
Ways to Improve Your Pool Deck's Appearance
Once you've considered the practical aspects of deck maintenance, you can start to think about a creative pool deck makeover using concrete overlay techniques, colors, or stencils.
Color
A pool is primarily a place for fun, so its concrete deck shouldn't resemble a parking lot. With a concentrated water-based stain like Aquacolor, your deck can go from gray to Burnt Sienna, Caramel, Slate Blue, or virtually any other color.

With excellent color stability and uniformity, Aquacolor can be utilized in one of two ways. If applying a decorative concrete overlay or an acrylic sealer like Dekguard, the product can be mixed in and used as an integral color. But it can also be applied as a topical stain over existing concrete.

When doing your DIY pool deck remodeling, bear in mind that paler shades are usually preferred as they won't get too hot under bare feet.
Stencils
For a really eye-catching concrete pool deck, stencils provide an affordable route to a wide variety of visual effects, from mock tile or cobblestone to more elaborate designs.

Concrete stenciling is simpler than its amazing results would suggest. The affordable, reusable patterns are simply pressed into the concrete overlay while it is being applied, creating shallow grooves in the concrete that convincingly replicate the appearance of tiling, cobblestones, paving stones, etc.

Some pool stencils — tile or stone effect, for example — are best applied to the entire pool deck, while others like circular rosettes can function as a centerpiece.
Concrete Resurfacing
Concrete resurfacing is a great way to comprehensively restore concrete that is tired, worn, or damaged without having to tear out the existing material. Whether you opt for a stamped concrete resurfacing solution or something else, adding a fresh layer of unblemished concrete also makes it easier to add color (via integral color mixing), stenciling, and a protective sealer. Duraamen resurfacing solutions for your pool deck include the popular Skraffino concrete microtopping and deck-focused products like Pasto.
Broomed Concrete
One important benefit of concrete flooring is the range of textures available. Unlike wood or tile, for instance, concrete can be manipulated while it is setting in order to adjust the surface consistency.

Broomed or brushed concrete is a great alternative to smooth, trowelled concrete when laying down a pool deck. The technique involves pulling a broom across the surface of the fresh concrete while it is still soft, leaving tiny grooves in its surface. As well as looking good, a broomed concrete pool deck offers one major advantage: the textured finish provides greater friction than a smooth surface, preventing slippages. A great solution for broomed concrete is the low-cost Uberdek concrete resurfacing product which is self-curing and ready for foot traffic within two hours of application.
Restore with Duraamen
Whichever way you decide to revamp your pool deck — and whatever your level of expertise with concrete flooring — Duraamen has the solution. Contact us today to find out how we can help.
@duraamen #duraamen #flooring #concreteresurfacing #concrete #concretewalls

For other relevant searches, you might want to try: