architecture - engineering - construction
Hurricane Roof Equipment Screens from Architectural Louvers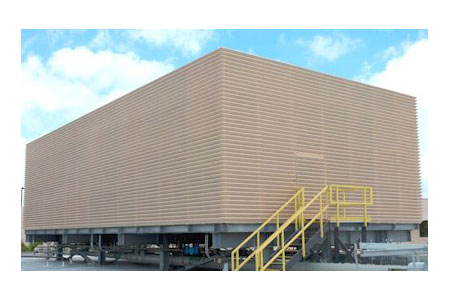 Hurricane louvers can be used as vision barriers to hide mechanical equipment and other unsightly items. These Florida Miami-Dade certified louvers are impact and high wind tested louvers that attach directly to structural framing (by others) on a rooftop or other locations where you need view blocking.

Since the typical line of sight is from the ground on most buildings, a horizontal blade equipment screen will have the blades inverted to eliminate all sight-through from ground level.

A variety of finishes are available from our Equipment Screens Finishes selection chart. Roof screens can be painted with a baked enamel or Kynar 500 finish, or anodized aluminum. A variety of standard colors are available. Custom colors can be selected by sending us a color chip. We will use our computer color match system to precisely match the equipment screen color to other building facade components.

Installation
Installation for Architectural Louvers hurricane roof equipment screens is simple. Each louvered screen is segmented into sections (up to 96" wide x 60" high OR 60" wide x 120" high) that are individually mounted to support members on the roof top (structural supports not provided). Each section comes with mounting clips to affix the sections to the structural supports. Once these sections are mounted to the supports, the screen appears as a continuous line of louvered equipment screen. Care should be taken to provide enough structural support for desired wind load ratings. The roof screen sections are designed to handle up to 150 lbs. per square foot with minimal deflection. Options for higher wind load ratings are available with product modifications and individual project approval.

See available Finishes

See LEED Information

About Architectural Louvers

We are an aluminum fixed louver manufacturer specializing in custom shape wall louvers, hurricane louvers, louvered sunshades, exterior sun control devices, roof equipment screens, and brick vents for the architectural construction market.

As our name states, we do one thing and do it right - Architectural Louvers.

For other relevant searches, you might want to try: