architecture - engineering - construction
News
Landscape Forms Expands its Popular Chipman Line for Terrace Life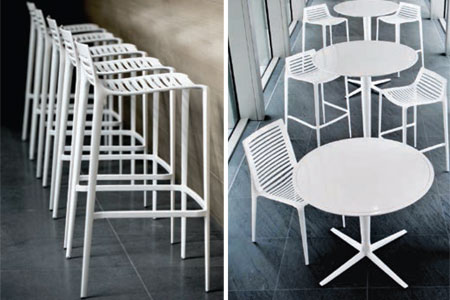 Landscape Forms announces the addition of two new products to its successful Chipman line, part of the company's Terrace Life group of lifestyle furnishings for terraces, rooftop gardens and other private and protected spaces. The new Chipman stool and standing height table, like the IDEA award winning Chipman chair and companion dining and lounge tables, showcase landscape architect Robert Chipman's deft hand at sculptural form.

"These new products build on the immediate success of the original Chipman chairs and tables and give us entre into new kinds of spaces and applications," explains Kirt Martin, Vice President of Design and Marketing at Landscape Forms. "When people think of Landscape Forms they typically think of heavy-duty street benches. We do that very well, but this is something else. The tall stool and standing height table are ideal for more casual rooftop terrace and café settings. The beauty of their design enables them to move easily into high-end residential spaces and their compatibility with existing Chipman furniture makes it possible to specify one family of products for a range of commercial spaces."

The Chipman stool echoes the organic curves and hollows of the Chipman chair, but is not just the chair on tall legs. The carefully refined design inverts the geometry of the chair seat, which is broader at the front with a narrow "waist," to create a seating surface that is more compact, narrower at the front and wider at the back. This shape provides support for the relaxed, flexible postures people assume when sitting on a stool and enables the stools to nest for storage. The low back grows organically out of the legs and its slight rise is just high enough to signal the body how far back it can go. The standing height table shares the same inverted cone base as other Chipman tables and is offered in 31" and 36" diameters. Stool and table stem and feet are made of seamless cast aluminum. The table top is flat aluminum with a tapered cast rim. Both are finished with Landscape Forms proprietary Pangard II ® HAPS, VOC, lead-free polyester powdercoat. Aluminum used in manufacture contains 100% recycled content material.

About Robert Chipman

Robert Chipman, ASLA is a practicing landscape architect and furniture designer who has designed award-winning site furniture for Landscape Forms since the early 1990's. The founder and principal of Robert Chipman Landscape Architect, based in Austin, Texas, he is an outdoorsman and climber dedicated to location sketching. For his landscape work Chipman has developed innovative techniques for digital hand-based drawing with simple artwork software to creatively address a wide range of landscape architectural applications. In his furniture design process he is hands-on and sculptural, bringing expertise from a landscape architect's point of view to the site elements that complement outdoor space. In addition to the IDEA award-winning Chipman chair and the growing Chipman line of seating and tables, his designs for Landscape Forms include the Plainwell and Austin benches, the Catena chair, Sorella planters, and the Solstice umbrella, winner of IDSA Gold & Best of NeoCon awards.

About Landscape Forms

Landscape Forms is the industry leader in integrated collections of high-design site furniture and advanced LED lighting. Since its founding in 1969 Landscape Forms has earned a reputation for excellent design, high quality products and exceptional service. The Landscape Forms U.S. headquarters and manufacturing facility is located in Kalamazoo, Michigan with sales representatives throughout North America, the United Kingdom, South America, the United Arab Emirates and Asia. Landscape Forms collaborates with renowned industrial designers and consultancies, landscape architects, and architects to design and develop integrated collections of products that address emerging needs and help create a sense of place. Additionally, the company has formed global marketing partnerships with select companies that share its commitment to design. Landscape Forms has an installed base of products around the world. Clients include municipalities, transit centers, corporate, college and health care campuses; and familiar brand leaders such as Boeing, Cisco Systems, Disney, Sprint, American Airlines, Herman Miller and Nike. The company was recently named by the Wall Street Journal as one of the Top 15 Small Workplaces in the US.
For other relevant searches, you might want to try: