architecture - engineering - construction
Laser Etched Glass Blocks from Innovate Building Solutions
Laser etched glass block can turn an ordinary window or wall into a one of a kind work of art. Our sealed beam laser process can etch up to 256 different shades of gray and 600 dots per inch of resolution.

Our laser process surpasses standard lasers, engraving, and sandblasting – and it's available (and pre-built) into glass block window or wall assemblies.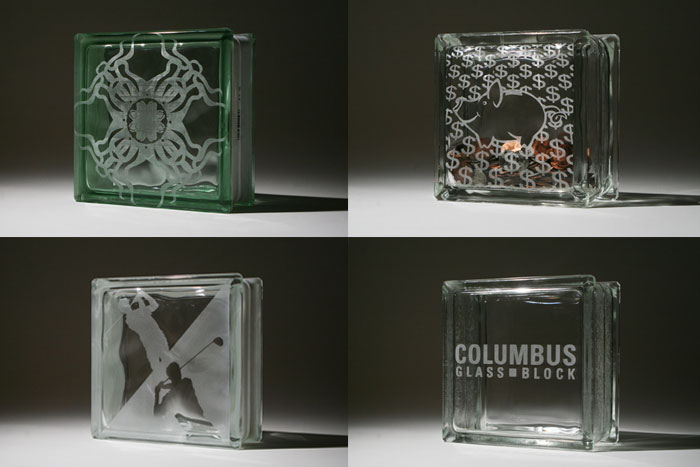 Intricate details and custom designs – Our carbon dioxide laser can be controlled down to .001" diameter (100 times smaller than the period at the end of a sentence) providing details and shading not possible with other methods.

Fabricated on simple to install windows, shower wall or partitions – You don't need to worry about how to put these laser etched glass block together. With our 'Protect All' glass block system - your window or shower wall will be simple to install - even for a first time DIY'er or contractor who hasn't worked with glass blocks before.

Select stock patterns or create a one of kind – If you have a favorite hobby or want to match an architectural style in one block or develop a mural over multiple units it's all possible. For custom designs we'll need your original artwork to provide the source for the laser to do it's work.

One stop shopping you can trust – Our company can etch an entire prefabricated window, wall, or glass block shower and even install it for you (installations are in selected areas) and can ship it to you anywhere in the United States.

Multiple uses including signs and logos – If you're looking for a unique sign in a wall or lobby for your business we can etch your logo or directional sign into a single or multiple grouping of glass blocks. Since our products are either 3 1/8" or 3 7/8" thick, they're tough to break (Note: if one unit is broken our computer controlled equipment can create a replacement for only one block).
@innovatebuild #innovatebuild #shower #remodeling #bathroom

For other relevant searches, you might want to try: