architecture - engineering - construction
Lead Brick shielding offers flexible solution for temporary or permanent shielding
MarShield provides Lead bricks which are ideal for adding additional shielding to existing rooms and can be used in new construction as a method to reduce wall or ceiling thickness to achieve space savings. Cast from 99.94% pure virgin high quality lead as a standard or when more hardness in the bricks is required antimony is added. We offer interlocking Chevron style bricks for maximum protection where the highest level of X-ray, Beta and Gamma shielding is required or Straight type lead bricks for radiation shielding where interlocking bricks will not suit your application.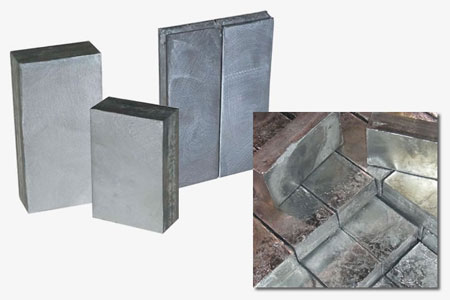 "Lead brick shielding best choice for construction where temporary, permanent shields or storage areas are required."
Features & Benefits
Interlocking Bricks Straight Bricks
Easily erected, modified, disasembled and relocated
Unique inerlocking "V" shape tongue and groove
Tight fitting for enhanced radiation protection
More stability over conventional straight bricks
Can be cut on site in any direction
Double stacked row configration possible
Fast assembly
Ideal for marine ballast
Applications
Shielded Walls, Coves, Partitions
Temporary shielding
Transportation of radioactive material
Hot Cells
Glove Boxes
Our Straight and Interlocking bricks are available in a wide variety of sizes as shown below.

See more information on our Lead Bricks here and feel free to contact our product engineering specialists at MarShield anytime for a consultation (800-381-5335). If you are familiar with lead brick shielding solutions, please use our online quotation tool to define your requirements and estimate lead volume / weight.

For other relevant searches, you might want to try: