architecture - engineering - construction
About On-Site Field Repair and Restoration
On-Site Field Repair and Restoration

Linetec's On-Site Repair & Building Restoration
Linetec offers field service and restoration capabilities which can bring your commercial and residential buildings back to their original splendor.
Whether your buildings finish has faded and discolored, or your new building has been damaged during construction, we can correct it.
Storefronts and other high traffic areas need to be repainted periodically. As good as it is, painted aluminum is not completely maintenance free, nor does it last forever. Painted aluminum can chip and scratch on high wear areas such as sliding doors and entrance ways.
Linetec's fully-staffed field service team utilizes Kynar 500® PVDF resin-based coatings that meet the highest performance standards to refinish the building's exterior or interior, including such metal structures as:
windows and doors
architectural panels and accents
fences and gates
site furnishings
curtain walls
cladding
storefronts
roofing and fascias
skylight and canopies
railings and a wide variety of other metal structures.
Linetec specializes in the repair of construction damage, including bondo repair for dents and miss-drilled holes, as well as refinish of premature chalk and fade.
On-site refinishing and restoration of architectural projects requires exceptional equipment, professional people, and a kind of specialized knowledge that only comes with years of experience. Linetec's field service team will do repairs or repaint day or night, around the buildings schedule.
As the country's leading and largest factory applicator of architectural spray finishes, Linetec is unique in our ability to offer restoration services of unparalleled quality. Our professionals possess the knowledge and skill to confidently guarantee the projects compliance to the AAMA High Performance Organic Coatings Specification.
Project Qualifications
Almost any field situation can be helped by Linetec's field-service. Freight damage, graffiti removal, anodize refinishing, ding and dent repair, metallic field finishing, interior or exterior repair, etc.. would all qualify as potential field repair projects.
To request a job-site visit or quotation:
A job site visit or request for a quotation can be provided by contacting Dale Robinson, Linetec Field Service Manager, at 715-367-0550, or Scott Platta, Linetec Senior VP at 715-846-3103, or your Inside Sales Representative. Our Field Service department can also be reached by email at fieldservice@linetec.com.
Field Service Warranty
On-site project warranties vary greatly depending on the project. Any job requiring Linetec field repair because of a Linetec finish issue is warranted in parallel with the Linetec factory warranty.
Field projects not caused by Linetec are warranted on an individual basis. Linetec's standard warranty for field finishing is 5 years from date of completion. Other warranty options are used depending upon the base metal condition, base finish condition, site location, type of damage, etc. The warranty for such projects can range from no warranty to warranties that parallel the original factory finish warranty. Linetec will consider supplying a special ten-year warranty in some cases.
For more than 40 years PVDF resin-based finishes have held the position as the world's premiere exterior metal finish. ADS paints with PVDF resin-base offer the same superior weathering properties as PVDF coatings, applied in-house by an approved applicator, and can be field applied on almost any building material, restoring surfaces to last and look like new.
The tough properties of PVDF resin-based ADS resist marring and abrasion, withstand airborne pollution without staining or discoloring, and retain their excellent appearance over time. The coatings require little maintenance and can be easily cleaned with mild detergents.
For any repair other than a small scratch or blemish, we strongly suggest our Linetec field service department inspect the situation and determine the best suitable paint or repair procedure. Surface preparation, application, and finish should all be properly executed for a long lasting finish. A minor mistake in any segment of repair will cause major problems over time.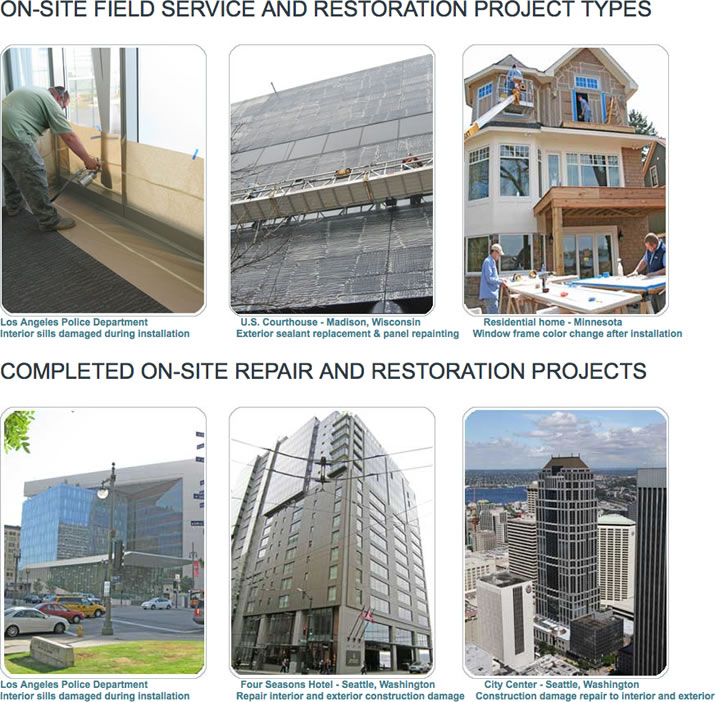 Brochures | 3-Part CSI specifications | CAD details
09 90 00 - Painting and Coating