architecture - engineering - construction
News
Looks Can Be Deceiving – Humidity Sensing Recessed Fan/Lights Look Like Attractive Recessed Lights, Function as High-Performing Fans
Homeowners are always on the lookout for smart technology that makes their lives easier and saves them money. The ENERGY STAR® qualified Humidity Sensing Recessed Fan/Lights from BROAN® and NuTone® do just that while still offering the best quality in residential ventilation.
The fan may look like a simple recessed light, but inside is a quiet, concealed fan with a humidity sensor that automatically turns ON when moisture is detected. The Humidity Sensing Recessed Fan/Light features exclusive SensAire® technology to help ensure moisture is effectively exhausted at the source by automatically ridding the room of excess humidity.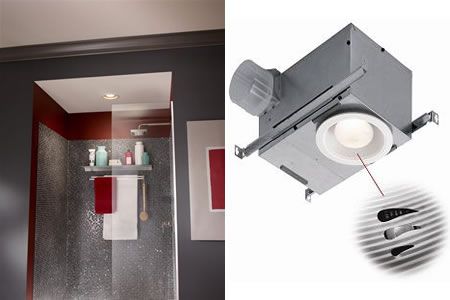 "Great for use anywhere in the home where excess moisture may be a concern, this Recessed Fan/Light is the most effective and inconspicuous way to control excess humidity and moisture, even in the most frequently used bathrooms," says Patrick Nielsen, marketing manager, ventilation fans, Broan-NuTone®. "The fan turns ON when it senses a quick jump in humidity and turns OFF automatically, helping to cut down on wasteful energy costs. And because it looks like a recessed light, the fans can blend in anywhere in the home."
According to the EPA, the key to mold control is moisture control. By installing a humidity sensing fan in the home, one can help protect bathrooms from mold and mildew caused by excess humidity. If there is a rapid rise in humidity within the room, the Humidity Sensing Recessed Fan/Light automatically turns ON to exhaust excess moisture and turns OFF after the job is done – ideal for those who frequently forget to turn the fan ON or OFF, or for those who leave the house before properly venting the damaging, excess humidity.
Additional unique features of the BROAN and NuTone Recessed Fan/Lights with SensAire technology include the following:
High-efficiency centrifugal fan delivering 70 CFM at 1.5 Sones – creating less than half the noise volume of a traditional house fan, making it perfect for rooms where noise must be kept to a minimum
Auto shut-OFF, adjustable from 5 to 60 minutes, with optional manual operation
Adjustable humidity sensitivity level
6-inch white trim matched to designs of major recessed light manufacturers
Energy-efficient lighting – one 14-watt, fluorescent bulb included
UL Listed for use over tub or show
6 7/8-inch-high housing fits 2x8 construction
4" round duct connector
In addition to the Recessed Fan/Light, more than 50 BROAN and NuTone ENERGY STAR qualified ventilation fans are designed, engineered, manufactured and customer supported in the U.S.A.
For other relevant searches, you might want to try: