architecture - engineering - construction
Luxury Shower Wall Panels Accessories and Storage System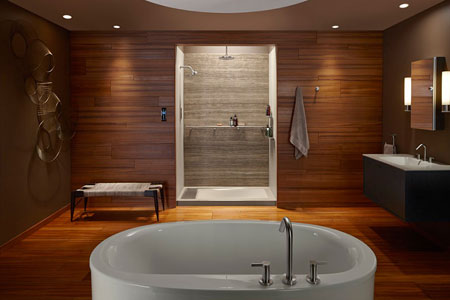 Elegant, sophisticated, stylish, clean and contemporary (and strangely enough- cost effective) are just some of the words being used to describe this smartly coordinated luxury shower wall panel and storage system. Explore the benefits, options and design ingenuity of this grout-free Kohler "Choreograph" system through Innovate Building Solutions.

Benefits of the Innovate Shower Wall & Storage System from Kohler
These composite shower and tub wall panels are made by combining a precise amount of crushed stone with fiber strand reinforcement under extreme pressure to create a durable luxury shower panel system with color throughout. Storage and seating solutions are designed to integrate with the wall panels.
Benefits include:
Design flexibility – The ability to coordinate colors, textures and different patterns of shower and tub wall panels with ergonomically correct and flexible seating and storage solutions is unparalleled.


Low maintenance – whether the panels are smooth or have a 3D texture they are all grout free for ease of cleaning and lower maintenance costs


Eliminates concerns about mold – Since the panels don't absorb water you do not need to worry about the harmful effects of mold for your family.


Ergonomically designed and coordinated storage and seating solutions – Imagine a recessed shower storage which doubles as a foot stool for shaving – or a fold down seat for a safe and relaxed shower in a small space. You now have the freedom to enjoy your shower.


Adjustable, cleanable and flexible shower and tub storage solutions – Take your recessed niche to another level by adding a "storage locker" with adjustable shelves which can be taken out for cleaning. If you need a space for small odds and ends add a hanging basket. If niches are not your thing the sleek styling of the floating shower shelves may be the ticket.


Easy to install for standard or custom sized showers or tubs - Panels can be cut with a masonry blade, miter or fine tooth saw – making it practical project for a professional or DIY'er to tackle. Water-tight installation of standard or custom sized enclosures are possible with corner and seam joiners which coordinate gracefully with the wall panels.


Reduced costs of ownership – Grout free wall panels eliminate the need to reseal or re-grout – and they are available in decorative patterns as well.


Cost effective enough to work in any bathroom – Whether you've got a large master bathroom you want to decorate to the max by combining different patterns and textures or just a simple kids' bathroom or a space where a simple solid smooth wall panel will work – you'll be surprised how affordable this luxury wall system is.


Large selection of colors – With over 40 different full panel and accent panel choices (from solid colors, natural finishes to even three dimensional wall coverings) you're sure to find a stylish and sophisticated option for any décor.
Luxury Composite Shower & Tub Wall Panel Accessories
Choosing colors and design is important, but selecting the right accessories is essential to complete your bathroom's overall look. The Kohler Choreograph line offers innovative accessories which will improve the design and efficiency of your shower or tub.
Shelving & Niches
Everyone would like nice, clean, and secure location to store their shampoo and soap in the shower. Luckily, with the Choreograph line, you can select beautifully designed floating shelves, shower barres, teak trays, or recessed Shower Lockers for your storage needs.
Shower Seating
Whether you want a place to relax or need a seat to provide a safe environment for a family member with disabilities to shower, the flip-down shower seat allows improves safety and function and can be folded up for extra space. Another option is the freestanding shower stool. These seating options also come in multiples colors and finishes to fit with your overall design!
Joints & Trim
To give your bathroom design a clean and finished appearance, allow for custom sized shower and to keep a watertight installation - the Choreograph line is equipped with a variety of joints and trims. You can select corner joints, edge trim, or seam joints in a variety of colors and finishes to complement your wall panels.
Watch the Installation Video
About Innovate Building Solutions
Innovate Building Solutions started as a family-owned glass block specialty company in Cleveland, Ohio. We've grown throughout the years to offer a full range of high quality, design-minded building products under multiple brands. We help homeowners, interior designers, architects, contractors and builders with projects ranging from glass blocks, windows, doors, bathtub and shower liners to complete remodeling projects. You can trust Innovate's Award Winning teams to help with design, products and installation of your new construction or remodeling projects. Our business has been built on integrity, quality and service since 1977.
We continue to offer design and installation services across the midwest, and have grown to offer nationwide sales on most of our products. To learn more about the history of our family of companies, watch the video message from Mike Foti, President and CEO, who continues to lead our growth 35 years on.

For other relevant searches, you might want to try: