architecture - engineering - construction
Maglin Site Furniture at Stewart McKelvey Rooftop Terrace, Halifax, Nova Scotia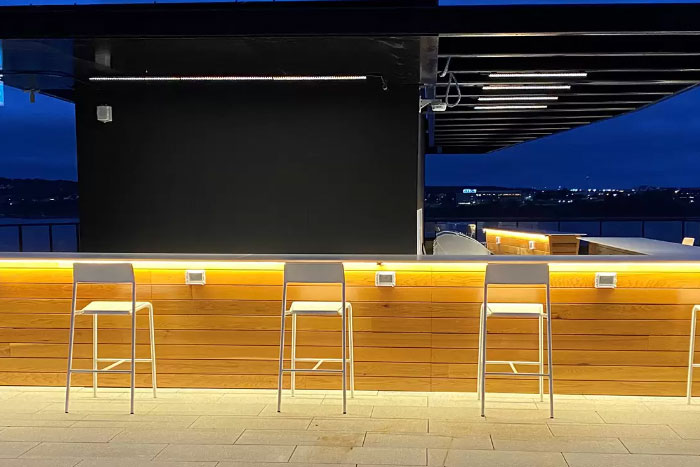 Queen's Marque: A Distinctly Atlantic Canadian Development
At the edge of Halifax Harbour in Nova Scotia, Queen's Marque is a mixed-used development like no other in Canada. Since Halifax's founding in 1749, this site has been home to a rich military, marine, and mercantile history, and leaders Armour Group Ltd. in partnership with Develop Nova Scotia established a district with a distinctly Atlantic Canadian character.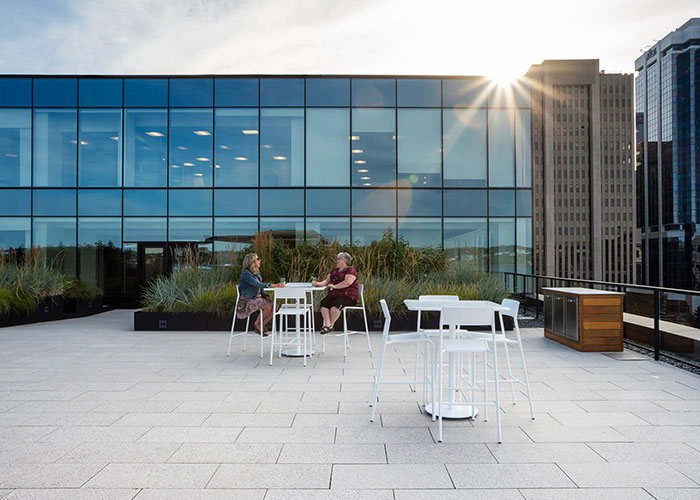 The commercial space at Queen's Marque is designed to be one of the most progressive buildings in the country, capitalizing on Halifax's deep natural harbor. The development relies on the sea for its heating and cooling systems through a District Energy Plant with chilled beam distribution in the commercial segment. The first of its kind in Atlantic Canada, the technology is expected to reduce building energy costs substantially and reduce carbon footprint by 50%.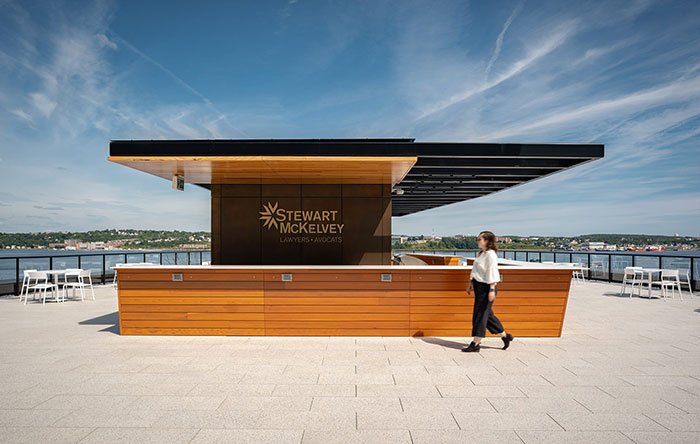 Stewart McKelvey's Vision for a Rooftop Oasis
Law firm Stewart McKelvey was the first tenant to announce occupancy of the new eco-conscious commercial building, claiming four of eight floors and exclusive access to rooftop terraces for its Halifax offices.

Designed by Nova Scotia firm Fathom Studio, the outdoor space features a range of custom-built, permanent fixtures including a bar area, built-in barbeques, seating, planters, and lighting. Stewart McKelvey's vision for the terrace was to create a private outdoor space for its members to enjoy by day and be an extension of their client space for after-hours receptions and other gatherings. Seating and tables from Maglin Site Furniture's Foro and ALUM Collections were selected to provide flexible, movable, and social seating for the space.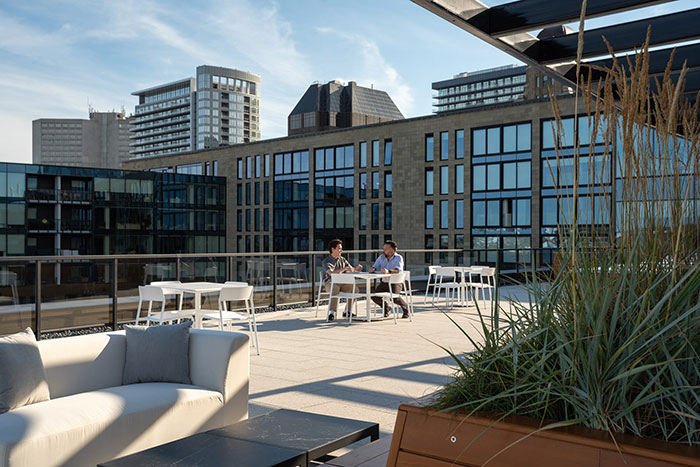 A Crisply Designed Space for Work and Leisure
In choosing terrace amenities, the ability to withstand oceanside weather was one of the most important factors to consider. Outdoor tables and seating needed to be portable, but substantial enough to withstand the often-windy conditions next to the harbor. With clean lines and conditions-resilient durability, FORO and ALUM fit the bill. The crisp matte white tables, chairs, and stools combine beautifully with the natural materials built into the terrace and dramatic views of the ocean. Moreover, the choice of white powdercoating reduces overheating of the furniture when exposed to the summer sun.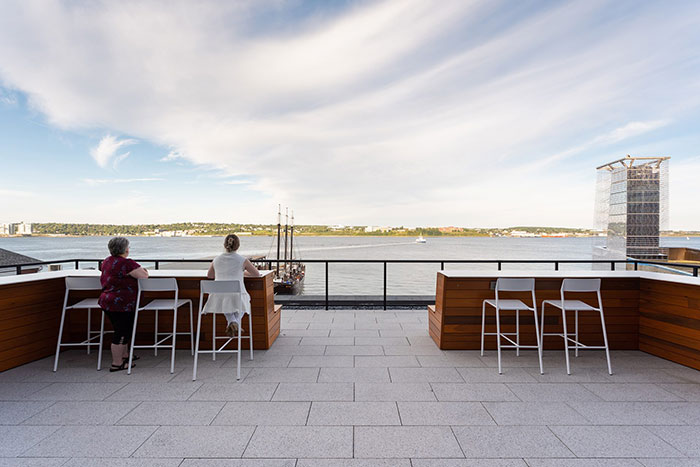 "We chose Maglin's Foro through a recommendation from our landscape designer. The design needed to have a simple, clean aesthetic, be comfortable, and be heavy enough to withstand the winds associated with our adjacency to the harbour. It's also stackable for storage and the finish is very easy to keep clean, even outdoors. After a few years, the product still looks new."
– Doug Boudreau, Director, Administration, Stewart McKelvey

The resulting terrace provides a crisply designed, innovative space for the employees and clients of Stewart McKelvey to gather at the intersection of work and leisure.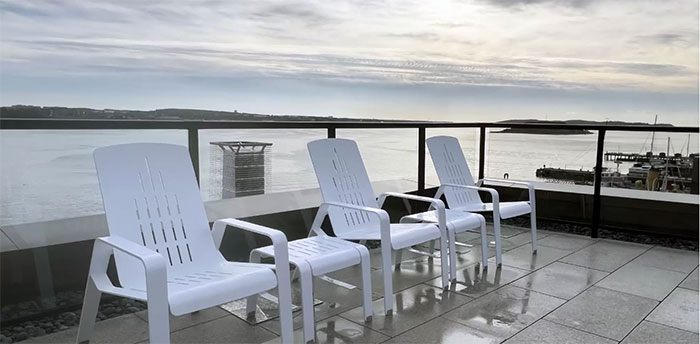 Project Collaborators
@maglinfurniture #maglinfurniture #maglin #streetfurniture

For other relevant searches, you might want to try: