architecture - engineering - construction
Maxxon DPM (Damp Proof Membrane)
Maxxon® DPM (Damp Proof Membrane) is a unique 2-component, moisture tolerant, high density, chemically enhanced epoxy product which prevents the passage of water vapor and moisture through concrete floors and walls on or below grade. Maxxon DPM eliminates delamination of adhesives, floor coverings and coatings. Maxxon DPM also prevents capillary infiltration of oil or other chemicals from the ground and can be used to treat oil contaminated slabs.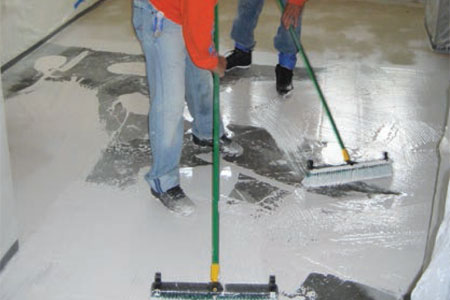 DPM reduces water vapor transmission levels of up to 25 lbs/24 hrs • 1000 ft2 to 3 lbs or less for the installation of most floor covering systems including VCT, sheet vinyl, carpets, wood, laminates, epoxy, terrazzo and synthetic.

COMMONLY USED IN

Industrial/retail facilities
Office buildings
Hospitals and schools
Residential slabs
Food processing plants
TYPICAL APPLICATIONS
Concrete slabs and cementitious underlayments (other than gypsum) with missing or damaged vapor barriers.
Barrier for oil plus other chemicals. Used for secondary containment or to prevent infiltration of oil and other chemicals.
FEATURES & BENEFITS
Reduces moisture vapor emission rates of up to 25 lbs to 3 lbs or less
Underlayment system installed next day
Covers new concrete (min 5 days old)
Eliminates "out-gassing" of concrete
Applied to moist or dry concrete
High alkalinity barrier (pH 13–14)
Low VOC content
Vapor & water barrier
Barrier against radon and other gases
Excellent adhesion to steel
Compatible with most flooring systems
High chemical resistance
Does not support mold growth
Meets USDA/FSIS guidelines
Easy to install/Minimal downtime
Full broadcast system
12-years of success mitigating moisture
Meets ASTM F3010 at specified yeild of 21 mils
Download Technical Sheet

For other relevant searches, you might want to try: