architecture - engineering - construction
Mobile Safety Rail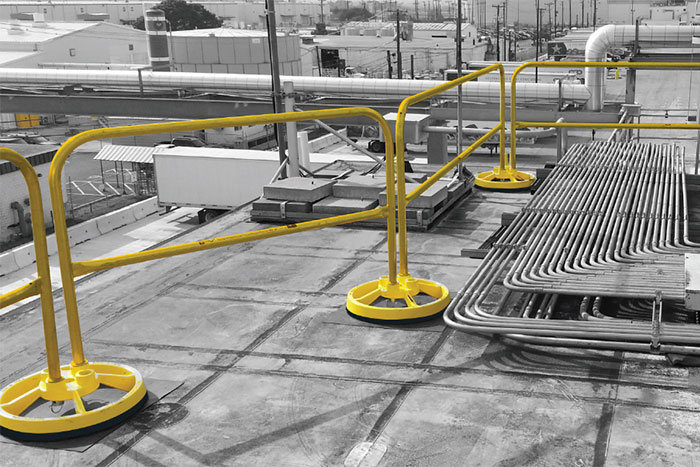 The SRC 360 Mobile Safety Rail System is an OSHA compliant passive fall protection system. Our fall protection railing system adheres to OSHA's Hierarchy of Control pyramid which recognizes that hazards may always be present but that risks to personnel can be safely controlled and isolated through highly effective, engineered fall protection systems. The SRC 360 Railing System is designed to be used at or around leading edge fall hazard areas to prevent workers from being exposed to the fall hazard itself.

Our unique design utilizes weighted cast iron base plates around workplace safety hazards. Steel guardrails are pinned into the base forming a ballasted system designed to meet OSHA's fall protection standards (29 CFR 1910.23 and 29 CFR 1926.502). No mechanical connection or drilling into the substrate is required. The system is completely free-standing and non-penetrating.

The modular design of the SRC 360 Mobile Railing System also makes this system very flexible. The railings are capable of rotating 360 degrees while pinned into the base which allows the system to be configured in a variety of shapes which is especially important when guarding around equipment and obstructions on the jobsite.
@safetyrailco #safetyrailco #safetyrail #fallprotection #guardrail #safetyladders

For other relevant searches, you might want to try: