architecture - engineering - construction
News
Morin Case Study - Vaultra Storage
Vaultra Storage brings a modern, stylish vibe to the busy streets of Toronto, offering more than 2,100 climate-controlled storage units to customers. Designed to look like an office building, it also offers workspaces and a conference room, a feature more important than ever after the pandemic closed many offices. Kingspan's insulated metal panels helped to create a sleek, modern-looking facility that put thermal efficiency at the forefront.

Highlights:

The flagship Vaultra Storage facility in Toronto is modern on both the outside and the inside, featuring storage units of all sizes and workspaces.
The facility was constructed in just 20 months during the COVID-19 pandemic with Kingspan insulated panels reducing the number of trades needed on site, improving the speed of build.
Three different Kingspan insulated metal panels were used on the project, along with the company's new Accent Fin™ providing a stylish look that elevates the typical self-storage facility aesthetic.
Challenge
Local approval is tough to obtain for self-storage facilities in Ontario because they often lack aesthetics and they rarely create jobs. The owners of Vaultra Storage wanted to open their Toronto flagship in 2020, in the midst of the COVID-19 pandemic. With labor shortages, increased COVID-19 health protocols and Ontario's harsh winters all impacting the project, the owners of Vaultra Storage faced an uphill battle when it came to designing and building a self-storage facility that impressed local planners and could be built quickly.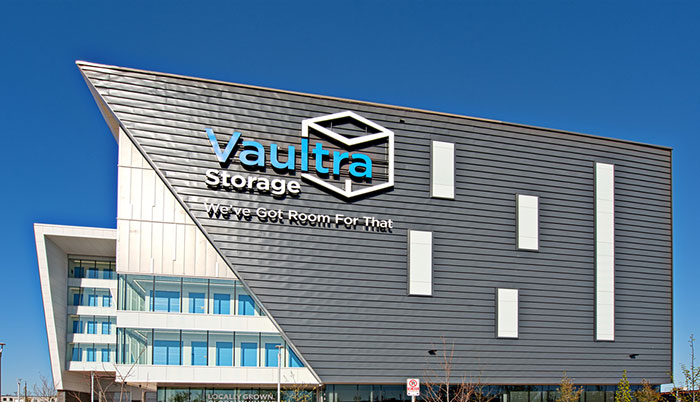 Solution
Pearce McCluskey Architects selected several Kingspan insulated metal panels in order to meet Vaultra Storage's needs for a thermally efficient building that also hit all the right marks with a modern design that could be constructed quickly to meet demand from people looking to clear the clutter or move during the pandemic. Kingspan panels helped the project to be completed in just 20 months. Insulated metal panels are an all-in-one solution to multi-component wall systems, which increase speed of build. They require fewer trades onsite, making for simplified installation.

To obtain the modern and sophisticated look that was required, Kingspan made it easy to integrate an external façade with insulated metal panels, giving the building a dynamic appearance. This was made possible with Kingspan's KarrierRail system, which integrates seamlessly with the KS Series Mini Micro-Rib and Optimo® insulated panels, which all share the same panel joint. This allows architects to combine the aesthetics of their chosen façade with the energy-efficiency and thermal performance of insulated metal panels. All the panels used in the project can also be oriented horizontally or vertically, allowing architects more design flexibility.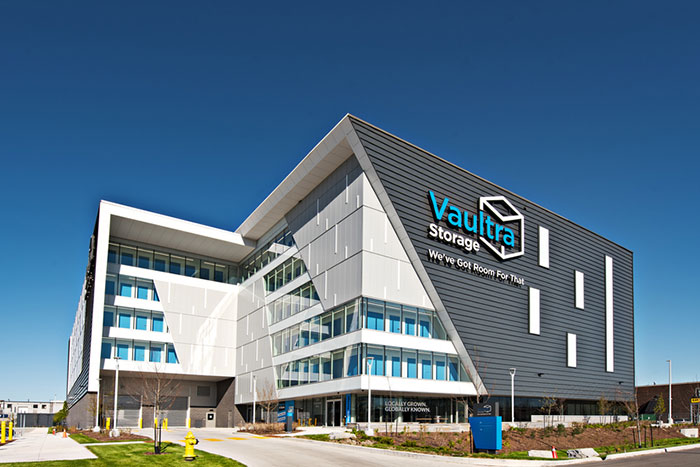 To mimic the look of a modern office building with a diversified appearance, Pearce McCluskey Architects explored juxtaposition of a darker façade utilizing Kingspan's KarrierPanel, mixed with the lighter Dove Grey and White color accents from Kingspan's KS Series Mini Micro-Rib and Optimo® panels. The result is a design that breaks from the monotony of typical self-storage units. To further emphasize this dynamic appeal, the architects gave the building additional flair utilizing Kingspan's Accent Fin™ in the Flat Box shape. Using insulated metal panels in tandem with Kingspan's Flat Box AccentFin™ creates a design that challenges the status quo of what self-storage buildings can look like, while fitting perfectly into the surrounding neighborhood fabric.

With self-storage and co-working spaces growing in popularity, companies like Vaultra Storage are increasingly using more ambitious architectural designs to stand out from their competition. Using Kingspan insulated metal panels, KarrierRail system and the Kingspan Accent Fin™, Vaultra Storage achieved an incredibly modern and sophisticated design that raises the bar for what self-storage facilities can look like in a post-pandemic world.
#Morin #MetalWall #MetalRoof #WallSystem #RoofSystem #MetalPanel
URL:
https://www.kingspan.com/us/en-us/product-groups/insulated-metal-panels/project-gallery/vaultra-storage
For other relevant searches, you might want to try: