architecture - engineering - construction
NawTone-K—Potassium Silicate Stain
Nawkaw Corporation has been further refining color changing technology solutions to introduce a new formula using inorganic binders based on mineral silicate—NawTone-K™! Potassium silicates give a hardened coating of higher water resistance and therefore, have a much lower tendency for efflorescence and delamination. Silicate stains require a siliceous substrate for setting making NawTone-K highly suitable for mineral substrates such as concrete. NawTone-K is designed to have a woven-like effect upon infusing with the substrate to create a UV resistant, long-lasting and color-stable surface for mineral substrate building materials such as concrete, cement lime plasters, and sand-lime brick.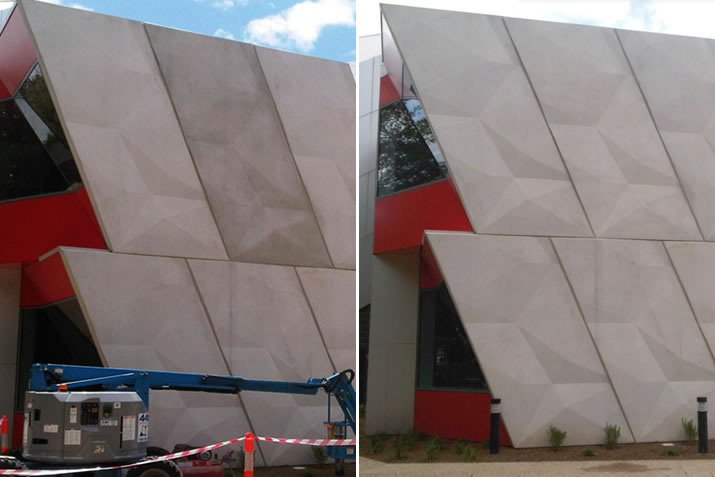 Prior to Coloring: Mismatching Panel after skim coated. After: Nawkaw process was used over the skim coat panel to blend in with the other panels.
NawTone-K is essentially a special mineral based formula that is nonflammable, nonhazardous, and has zero VOC content making this formula one of our most environmentally sensitive products yet! This dynamic formula is also resistant to algae, mold, and soiling making this stain an excellent choice for concrete color solutions. NawTone-K's high durability helps to preserve resources and its contaminant-free composition preserves health and environment. For this reason, silicate stains have gained popularity especially in the segment of sustainable construction. This water based formula along with our custom blend color solutions allow for more control to meet the aesthetic requirements needed to leave your concrete structure looking unblemished, perfect, and natural. Visit our website at www.nawkaw.com to learn more!