architecture - engineering - construction
New Floors at Kaiser-Permanente Service Center Thanks to Penetron
When it came time to restore the main floor entrance and lobby of the new Kaiser Permanente contact center in Duluth, Georgia, PENETRON Specialty Products (PSP) provided the solution. January's grand opening presented the gleaming results.

Kaiser Permanente recently invested $51 million to purchase and renovate a 185,000 square-foot office complex in Duluth, Georgia. This new call center facility was also designed to meet LEED requirements for certification as a "green" building.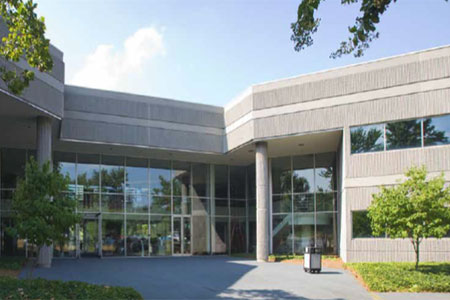 High traffic area: The entryway and lobby floors of the Kaiser Permanente contact center in Duluth, Georgia, were renovated with LEVELINE self-leveling underlayment and RENEW WS concrete resurfacer.
When the general contractor, McCarthy Building Companies, needed to restore the main floor entrance, they asked Baker Paint and Flooring, a floor preparation contractor, for recommendations.

Baker's Project Manager, Mike Portwood said, "The existing floors in the building entrance and the main lobby urgently needed to be repaired and resurfaced prior to the installation of the final tile flooring."

"These areas are intensely high-traffic," adds Bob Baumeister, PSP Product Specialist. "They chose our LEVELINE self-leveling underlayment, along with our PRIMER STX100, for optimal adhesion in the areas adjacent to the entrance. RENEW WS concrete resurfacer was used for the decorative topping in the lobby."

As the PSP distributor for the Atlanta market, Building Restoration Products quickly delivered the material, thanks to a large inventory of PSP flooring products. Owner Matt Lawler noted, "Thanks to timely coordination and quick work by the installer, the project was finished with time to spare."

As the nation's largest integrated health care system, Kaiser Permanente already operates national contact centers in California, Colorado, Hawaii and Maryland. The new contact center in Gwinnett County (just north of Atlanta) will serve the company's more than 10 million members in eight states and the District of Columbia, including approximately 300,000 members in Georgia.

For other relevant searches, you might want to try: