architecture - engineering - construction
About Penetron Specialty Products
Penetron Specialty Products
Address:

45 Research Way, Suite 203

City, state:

Postal code:

11733-6401

show map

Country:

Phone:

Fax:

URL:

Email:

infopenetron.com

Type:

Manufacturer
Penetron Specialty Products – "For the quality you expect"
Penetron Specialty Products (PSP) offers reliable and high-quality products and solutions for the installation of floor coverings in commercial and residential construction. Our surface preparation products ensure optimal installation of virtually any floor covering. PSP is a recognized innovator in surface preparation and concrete restoration products. President Robert Revera adds: "We started Penetron Specialty Products after talking to key clients. They are familiar with our quality standards, professionalism and the reliability of our support network. The feedback was very positive and very soon we were filling orders. The rest is history."
We make what we sell
PSP's manufacturing facility is located in Allentown, Pennsylvania, close to highways, airports and even a harbor. Our 43,000 square foot facility features the newest blending and packaging systems. Exacting quality control processes have earned us an ISO 9001-2008 certification.
Ongoing R&D
Our in-house R&D team of material specialists works with raw material suppliers and technology partners to provide the highest degree of quality and reliability. Our formulations are continuously optimized by evaluating the latest materials research and gathering input from construction professionals. We work closely with our customers to ensure that our products perform consistently and to their expectations.
Support for you, where you are
As part of the global Penetron Group, PSP offers high quality products combined with an experienced and attentive customer support team. We serve clients across North America and around the world.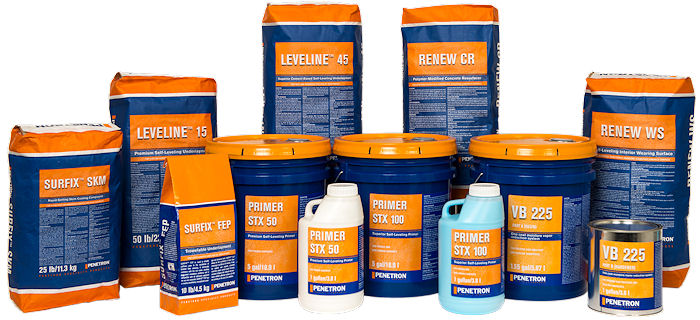 Company Information from Penetron Specialty Products
News archive:
Vapor Barriers from Penetron Specialty Products (Jun 10, 2021)
Penetron Project: Canoe New Westminster, British Columbia, Canada (Mar 06, 2021)
Penetron Project: Bayswater Kitsilano, British Columbia, Canada (Nov 28, 2020)
Penetron Project: 15 West North Vancouver, British Columbia, Canada (Sep 09, 2020)
Penetron Self-Leveling Underlayments (Jun 09, 2020)
Penetron Skim Coating & Patching Compounds (Mar 06, 2020)
Penetron Vapor Barriers (Sep 10, 2019)
PENETRON Specialty Products Shines in Northrop Grumman Flooring Challenge (Feb 19, 2019)
PENETRON Helps Preserve Native American History at Ocmulgee (Aug 29, 2018)
New Floors on Schedule at WCTC – Thanks to PENETRON (Aug 09, 2017)
For other relevant searches, you might want to try: Concrete protection, Cementitious waterproofing, Capillary waterproofing, Hydro insulation, Concrete waterproofing.