architecture - engineering - construction
News
Parex EIFS is Greener
EIFS IS GREEN
With building codes driving higher standards for more sustainable buildings and new green building initiatives on the rise, architects and builders are becoming more discerning about the building materials they specify for their projects. Exterior Insulation and Finish Systems (EIFS) offer the ideal solution to help meet the most stringent energy requirements in the country. EIFS is engineered to be a high-performance energy efficient exterior cladding solution. In essence, EIFS wraps your building in a thermal blanket by incorporating a continuous layer of insulation around the exterior sheathing of a building, and can be used in conjunction with liquid-applied air & waterresistive barriers to maximize building envelope performance and improve indoor air quality. This helps eliminate thermal bridging and increases R-values. EIFS is proven to be 84% more energy efficient than other exterior claddings.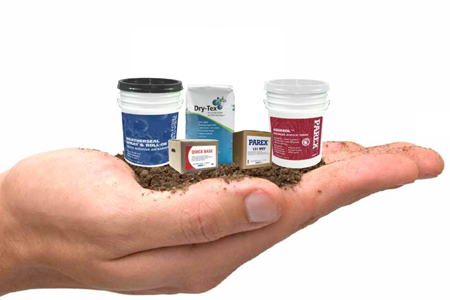 CONTINUOUS INSULATION AND THERMAL BRIDGING
Continuous insulation is a key component to an energy efficient structure. In conventional wall frame construction, batt insulation is placed inside the stud space to create a thermal barrier. To improve thermal resistance, stud thickness is often increased to allow for thicker insulation to be used. However, studs are exposed to both inside and outside environments and conduct heat at a much higher rate than the insulation which creates numerous thermal breaks, and reduces the overall effectiveness of the thermal barrier. In an EIF system, the insulation is placed on the exterior of a structure, which significantly reduces thermal breaks.
SUPERIOR R-VALUE
R-value measures the difficulty for energy to move through a wall assembly. The higher the R-value, the more resistant it is to energy movement through the wall. The more resistant the wall assembly, the less a structure's HVAC system has to work which saves energy consumption and money.
Research conducted by the Oak Ridge National Laboratory and supported by the Department of Energy proves that EIFS provides superior R-value when compared to brick, stucco, and cementitious fiberboard siding.
* Includes R-11 stud cavity batts, 1/2" sheathing and wallboard.
** Includes 3/4" XPS and 1/2" wallboard.
Source: ASHRAE Handbook of Fundamentals
LIGHT WEIGHT
EIFS is lighter weight than any other exterior cladding. This lightweight system means less structural engineering and ultimately a reduction in materials consumed and total energy consumption.
PAREX EIFS IS GREENER
Now that you know how EIFS contribute to sustainable design, why not raise the bar and design a Green EIFS system using Parex's unique green products. From innovative packaging designs to inventive, high performance products, Parex delivers the best in Green EIFS design. Starting with the air & water resistive barrier and all the way to the final finish, Parex can help you achieve a truly Green EIFS project utilizing the following unique products.
FINISHES
Dry-Tex:
Industry's first dry acrylic finish
VOC - free
Reduced impact on landfills, packaged in recyclable paper bags
Lower fuel and energy consumption during transport, 40 % lighter than standard pails.
AquaSol™:
Hydrophobic, continuously cleans the wall surface as water beads off the exterior
Heat reflective, reflects UV rays up to 15% more than standard acrylic finishes to help keep wall surfaces temperatures low and reduce cooling costs.
Smog reducing, photocatalytic technology creates the ability to decompose organic and inorganic pollutants such as smog.
BASECOATS & ADHESIVES
121 Wet in a Box, 121 Dry, 121 Dry HI & 121 Cool Base:
Packaged in recyclable cardboard boxes and paper bags
Helps reduce carbon footprint by requiring less fuel to ship
Eliminates pails, decreases waste on the jobsite and in the landfill
Quick Base:
Packaged in recyclable cardboard box for easier waste management on jobsites and less impact on landfills.
Ready to use, does not require the addition of cement.
Reduced water consumption and minimal jobsite contamination
AIR & WATER RESISTIVE BARRIERS
WeatherSeal WRB's:
Provides continuous protection for moisture and air infiltration
Isolates interior and exterior environments to limit the amount of air that can leak out and infiltrate into a structure.
Improves overall energy performance of the building envelope
PIGMENTS
ColorFast Pigments & No VOC Pigments:
Environmentally conscious pigments
Zero VOC
APEO-free
PAREX GREEN ADVANTAGE
Liquid applied air & water resistive barriers
Recycled content
Recycable packaging
Multi-functional products
Low and no VOC materials
Innovative technology
Environmentally responsible manufacturing
Single source green EIFS solution
GREEN EIFS FACTS
Optimal energy performance
Lightweight exterior cladding
Minimal maintenance costs
Continuous Insulation
Superior R-values
Durable
Cost effective
Reduced carbon footprint
For other relevant searches, you might want to try: