architecture - engineering - construction
Penetron Worldwide: Seaplane Terminal, Rose Bay, Australia
Located less than 7km (4 miles) from the downtown skyline of Sydney Roads and Maritime Services and Sydney Seaplanes has recently upgraded the seaplane facility at Lyne Park, Rose Bay. The restoration and construction of the new Rose Bay Terminal was based on massive, pre-cast concrete elements built entirely over seawater. PENETRON ADMIX was used in the precast elements to ensure impermeability of the structure.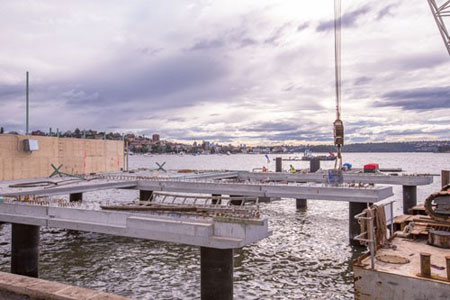 The upgrade to the Rose Bay Seaplane Facility provides numerous benefits to Sydney and the local area by maintaining a historic site, providing improved seruves for seaplane customers and preserving a valuable tourism asset.

Sydney Seaplanes is one of the most popular and well-known attractions in the Sydney area. Built on pylons over the water, the company's new Rose Bay Terminal was designed with durability in mind. All pre-cast concrete elements, treated with PENETRON's crystalline technology, are now protected from chloride penetration by seawater splashing just below the precast segments.

Substantially reducing chloride-induced corrosion of the steel reinforcement bars in concrete is one of the most important aspects of concrete durability. Concrete dosed with PENETRON ADMIX ensures significant reductions in rapid chloride permeability test (RCPT) values (as per ASTM C-1202 and AASHTO T-277 tests) by reducing chloride ion permeability.

As the primary waterproofing and durability-enhancing solution for pre-cast concrete, PENETRON ADMIX saves time and costs in pre-cast manufacturing. The admixture is used widely in concrete tanks, pipes, drains and underground tanks, etc. For the Sydney Seaplanes project, over 300 m³ (380 cubic yards) of concrete was used for the Rose Bay Terminal's pre-cast segments.

The Rose Bay Terminal is the main hub for Sydney Seaplanes. The company operates scenic flights around picturesque Sydney Harbor – including the iconic Harbor Bridge, Opera House and the beautiful surrounding beaches, including the famous Bondi Beach.

For other relevant searches, you might want to try: