architecture - engineering - construction
PENETRON Puts a Tower on Solid Footing
Conventional membrane solutions are often insufficient when confronted with building a large tower in a saturated job site. Treating the foundation of the newly constructed 8th Avenue Residences tower with PENETRON ADMIX turned out to be the ideal solution – with the added bonus of permanent integral waterproofing.

The 8th Avenue Residences complex is a cornerstone of the urban mixed-use development in downtown Fort Lauderdale envisioned by Stiles Development and the Rockefeller Group Development. Housed in a 30-floor, luxury residential tower, it features 252 units, some with over 400 square feet (36m2) of private terrace space, with retail shops on the ground floor and an underground parking garage.

"The 8th Avenue tower offers unimpeded views of downtown Ft. Lauderdale and the Atlantic Ocean," notes Christopher Chen, Director of The PENETRON Group. "However, the proximity to the ocean and the underground water table resulted in a very wet site – and significant challenges to the builder."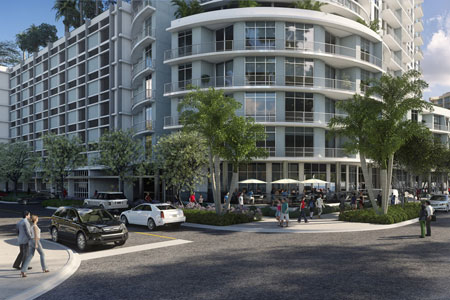 The 30-floor tower is located close to the intercoastal waterway, and the construction site also had a very high water table. The below grade foundation (with an elevator pit) could not be de-watered quickly enough to allow the pouring of a conventional concrete structure. The PENETRON team worked with the developer and Premier Design Solutions (the project waterproofing consultant) to come up with an effective solution.

"Because of the job site's high water table and the difficulty of installing a conventional system in such adverse conditions, our crystalline waterproofing technology turned out to be the best solution," adds Christopher Chen.

Titan America supplied concrete treated with PENETRON ADMIX SB (in soluble bags to simplify mixing) for the foundation and garage structures. in addition to PENETRON ADMIX SB, PENETRON crystalline waterproofing coating was also used in the elevator pit for extra protection

"In the end, Telebaum, the shell contractor, was very happy with the outcome of the project, thanks to PENETRON ADMIX," says Christopher Chen.

The PENETRON Group is a leading manufacturer of specialty construction products for concrete waterproofing, concrete repairs and floor preparation systems. The Group operates through a global network, offering support to the design and construction community through its regional offices, representatives and distribution channels.

About Penetron

Founded in the late 1970s, PENETRON developed cementitious waterproofing products and additives to create an optimal crystalline technology. Today, the PENETRON system of products is sold around the world in over 60 countries through qualified applicators and distributors.

The know-how and experience gained over the past 40 years has enabled PENETRON to offer a broad range of concrete solutions, including crystalline waterproofing, waterstopsand liquid sealers. The PENETRON system has been proven effective on countless major projects worldwide. The technical excellence of the products and a knowledgeable and dependable team of people have made the company the industry leader.

For other relevant searches, you might want to try: