architecture - engineering - construction
Pool Deck Coating and Finishes
Pool Deck Coating and Finishes by Elite Crete Systems aren't just beautiful, they are a necessity providing an anti-slip texture designed to reduce slip and fall accidents on wet surfaces. The best part is that these pool deck coatings and finishes can be installed to new or existing pool decks almost regardless of the condition.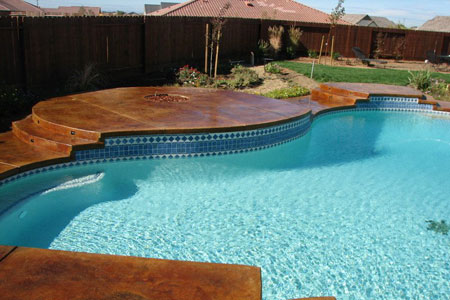 Understand first and foremost that these finishes are NOT simply a paint or sealer. These pool deck coating and pool deck finishes consist of a time tested, polymer modified cement that chemically bond with the concrete surface. When properly applied, these finishes are permanent and will provide years of beauty, strength and anti-slip protection. In addition to being extremely durable(stronger than conventional concrete), these pool deck coating and finishes are weather proof, resistant to damaging UV rays (unlike epoxy rock finishes), pool chemicals, staining and can be used indoors or outdoors in the harshest of climates – well below freezing or in the hot desert heat.

Depending on the look and design you chose, these pool deck coating and pool deck finishes range in thickness from 1/16″ to 1/4″ thick and we can create virtually any design idea you can dream up. From stone to brick to tile or wood, the pattern, texture and color options are limitless.

These pool deck coating and finishes are used on large commercial pool decks and water parks as well as on thousands of residential pool decks. In fact, our finishes are installed on most major hotel chains and university pool decks around the world.

For other relevant searches, you might want to try: