architecture - engineering - construction
Prefab Smoking Shelters – Factory Built or Panelized?
Smoking shelters, also known as smoker's shelters, smoke rooms and smoker's shacks, Par-Kut International supplies small and mid size smoke shelters in prefab steel and aluminum versions as well as site erected type aluminum smoke shelters. Each type has it's own particular advantages in regard to cost, convenience, or appearance.

A factory assembled smoke shelter is convenient for the people at the facility as no labor is required to put it together. Additionally, some special features can be installed at the factory that may not be as simple, or even possible to do in the field. Architectural roof treatments and infra red heaters are examples of this.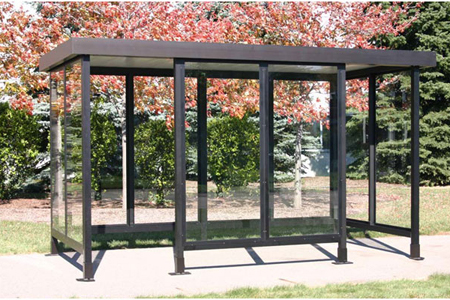 Options available in smoking shelters: Lighting (either hard wired or solar), bench seating, ventilation, custom roof treatments (curved, peaked or hip, sky lights, etc.), tinted or plastic glazing, and sign holders or factory adhered vinyl signage. With factory assembled smoking shelters, electrical devices, doors and even heaters and air conditioners can be pre-installed. Some locations do not have ready access to electricians, so this can save time and money.

Locating the smoking shelter properly does take some thought and planning. Not too many people like to run the gauntlet of smokers that can be found outside an entrance of a building that does not have smoking shelters. It is typical that a facility manager wants to keep the cigarette smoke out of their building for the health of the rest of the employees. An example would be when a smoke shelter is installed away from a main entrance, far enough away for the smoke to dissipate naturally.

See Product Page

For other relevant searches, you might want to try: