architecture - engineering - construction
Pretty Handy Girl: CableRail in a screened porch DIY
Prominent DIY blogger, Pretty Handy Girl, has written a fantastic DIY tutorial on how to install CableRail Lag fittings. From her blog post: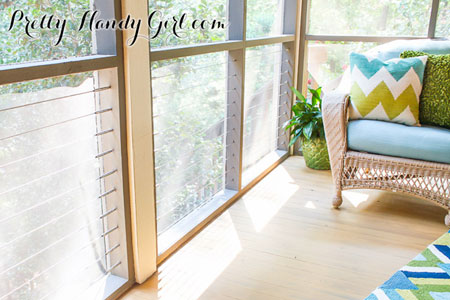 "This is one makeover that has been in my head for almost two years. My much loved stepmom has a screen porch that needed a facelift. There is a 10′ drop down from the screen porch. The only thing between this drop and people is a thin screen. For the record, this is not how you build a screen porch, it is not to code. There is supposed to be a railing on the lower sections. I finally convinced my stepmom to let me solve the problem. One requirement she had was it couldn't block the view. Luckily I had the perfect solution: Feeney CableRail!"

See photos below, then hop over to How to Install Low Visibility Cable Railings to see how the porch was before, step-by-step instructions with close-up photos, and the glorious after shots! And be sure to view our installation video as well.



Use the Hanger Bolt installation tool with your drill to install the Lag portion of the fitting in the posts. See more



Install CableRail fittings onto included lag bolts - our patented Quick-Connect® locking jaws allow for easy installation of the cables. See more

For other relevant searches, you might want to try: