architecture - engineering - construction
Project Showcase: Smoke Protection at the University of Michigan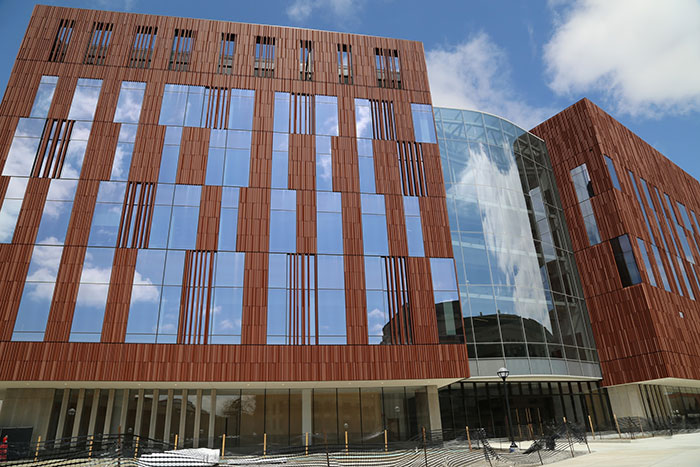 Faced with several unique design challenges, the architects and designers of the University of Michigan Biosciences Building and the new wing of the Taubman College of Architecture and Urban Planning used Smoke Guard products to ensure their buildings contained the latest smoke and fire protection.

Let's take a look at these buildings and learn how Smoke Guard was able to provide customized protection that met their design requirements.
University of Michigan Biological Sciences Building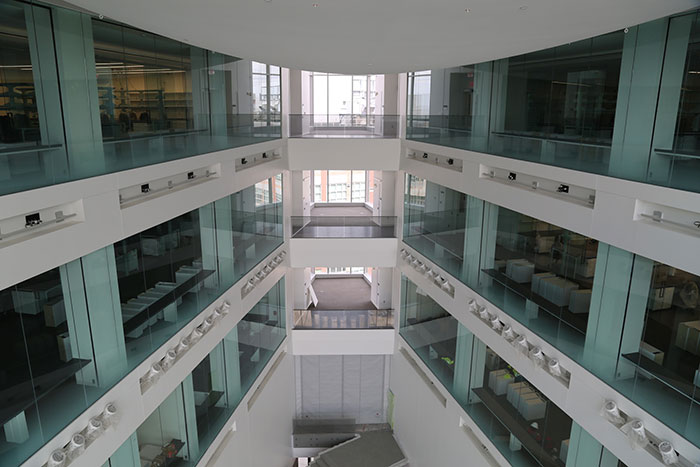 Location: Ann Arbor, MI
Project Type: Educational (B Occupancy)
Application: Vertical M2500 (Total of 31 installed)
Distributor: Shaffner-Heaney Associates Inc.
Completed in 2018, the University of Michigan Biological Sciences Building is a 5-story, 312,000-square-foot building designed to combine innovation, learning and collaboration in a way that connected faculty, staff and students with the Ann Arbor community.

The interior of the building contains classrooms for learning and teaching, labs and shared spaces for researching, and the Museums of Natural History, Zoology and Paleontology. Atriums are used to unify the building with glass walls on each end, providing a visual connection between spaces.

"From start to finish, this building took about three years to design and went through many variations," says Dave Bauer, AIA, Southwest Regional Sales Manager for Smoke Guard. "It is a huge building with really great architecture. Essentially, it is designed as three cubes with pie-shaped atriums used to separate each cube. Each story has a bridge to connect each cube, and these atrium areas needed to be protected from smoke and fire to create a safe egress route. Accommodating this high-profile design was an incredibly unique challenge, but one we were ready for."

One of the biggest challenges for Smoke Guard was the building's "whale belly" ceiling that curved in both east-west and north-south directions. Made from acoustic drywall, the state-of-the-art ceiling reduces reverberations throughout the atriums and reflects light deep into the interior labs. It was important to maintain the integrity of the whale belly design while also providing the right level of smoke and fire protection.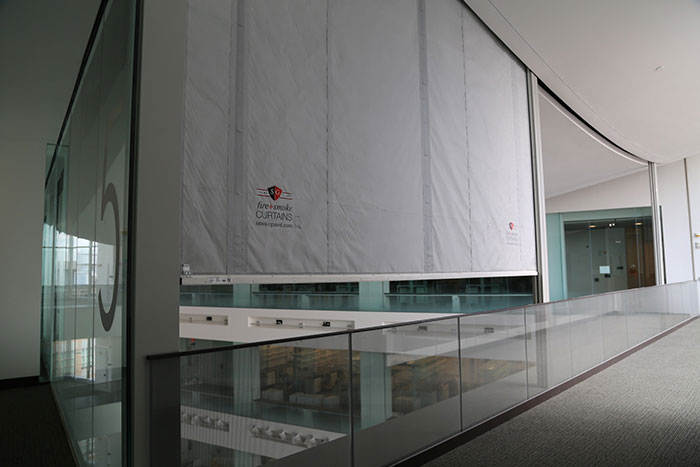 As an integral part of the smoke control system, Smoke Guard installed 31 smoke and fire curtains, some only accessible via catwalks above the whale belly ceiling system. These curtains deploy down through a slot in the ceiling using side guides and partition large openings in each of the atrium spaces in the facility. The addition of side guides was a modification to their typical draft curtain deployment process that helped create a tighter seal and that was practically invisible when not in use.

"Our commitment to design integration is what really makes Smoke Guard curtains work well in this space. Our distributor spent months on-site to ensure our system was installed correctly," says Dave. "We also made sure we were in step with the JHA and Fire Marshal to ensure our products met all requirements. Regardless of the project's size, that is what we always do to ensure our systems go above and beyond."
A. Alfred Taubman College of Architecture and Urban Planning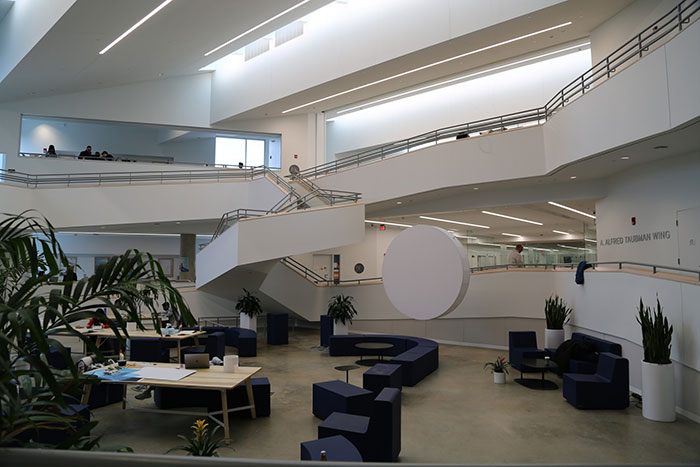 Location: Ann Arbor, MI
Project Type: Educational (B Occupancy)
Application: Perimeter M4000
Distributor: Shaffner-Heaney Associates Inc.
Also completed in 2018, the new wing of the Taubman College of Architecture and Urban Planning is a 3-story, 36,000-square-foot addition that includes studios, faculty offices and collaborative learning space. The wing consists of eight capstone rooms, three meeting rooms, two lounges, a reading room and a 5,700-square-foot common area that is often used to host conferences, final reviews and other special events.

While this was a smaller-scale project compared to the Biosciences Building, its multi-storied spaces brought with it many unique design aspects that required its chosen building materials to meet several creative challenges — especially when it came to smoke and fire protection and meeting building codes.

The interior space of the addition is organized by a series of spiral-like stairs and ramps that help create connections and encounters between faculty and students. Each of these areas is interconnected by pathways that needed a way to be separated to create a clear, functional egress path without taking away from the striking design or the open-learning environment.

"This is a great-looking building, asymmetrical and geometrically complex," says Dave Bauer, Architect and Regional Manager for Smoke Guard. "All of these parts interconnect, but these connections needed to have the ability to be separated as well. We were faced with some really odd geometries but knew we could take it the extra mile and develop something that functioned properly and also looked great."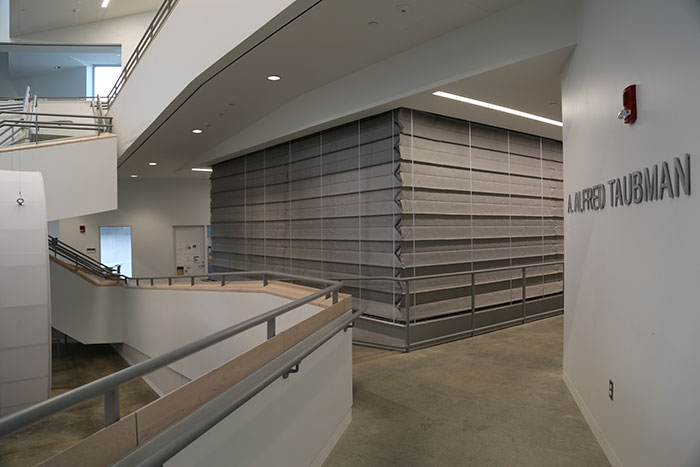 Integrating smoke and fire curtains into this unique architecture and geometry was an exercise in innovation and creativity for Smoke Guard and its distributor. The design team worked alongside the building architects to create a cohesive level of organization that would allow the curtains to function seamlessly while remaining completely hidden when not in use.

By using a four-sided Smoke Guard M4000 perimeter curtain around the staircase, designers were able to surround the top of the convenience stairs and connect two floors of the area. Then, large vertical smoke curtains were used to maneuver around and move with the irregular relationship between building volumes.

One of the most rewarding parts of the Taubman College of Architecture and Urban Planning project was the ability to innovate, create and test a working smoke control system as architecture students watched from their open studio. "The curtains remain hidden from view so well that some long-term occupants of the building didn't even know the curtains existed until they saw them deployed. They immediately did a double-take, and then we explained the process. That's how well they integrate into the design," says Dave.
Get the Smoke and Fire Protection You Need
Smoke and fire curtains can add an extra level of safety and security to your smoke and fire protection system. Smoke Guard offers a full range of products to ensure your building is safe and up to code.
@smokeguard #smokeguard #firesafety #firecurtain #smokecurtain

For other relevant searches, you might want to try: