architecture - engineering - construction
Roof HatchGuard from Safety Rail Company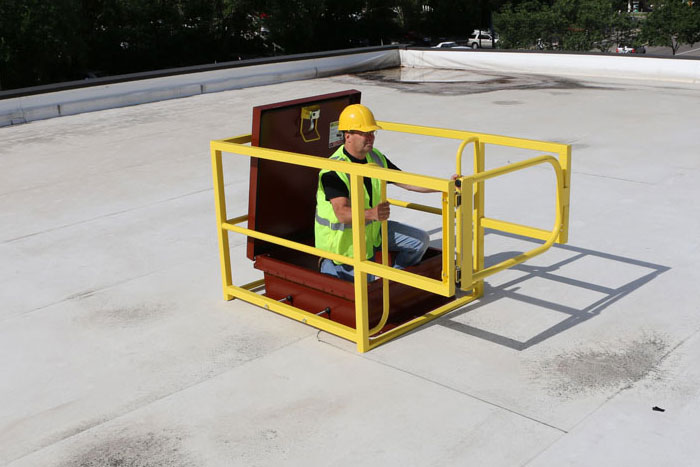 Roof Hatch Railing Guards from SRC are your first line of defense against a fall through a roof hatch on flat roofs. Roof hatch openings on flat commercial roofs are an important feature in building design. When access to the roof is needed, roof hatch openings are often more convenient than portable or fixed ladders placed on the outside of buildings. Roof hatch openings do pose a fall hazard, however, when left open when people are up on the roof or left open for ventilation.

An open roof hatch is no different than an open hole in the roof or floor through which people frequently fall. In fact, OSHA mandates that these holes be guarded with fall protection systems.

FALL PROTECTION SOLUTION:
At Safety Rail Company, we have the answer to guarding roof hatch openings. Our Roof Hatch Railing systems are completely free-standing and fit right over the top of the roof hatch. Our one-piece design means installation literally takes 5-10 minutes. Four rubber-tipped compression bolts are tightened against the curb of the roof hatch — that's it. No need to drill, because no holes in the roof or roof hatch are required.
Our Roof Hatch Railing Guards give you other bonuses as well. Each system comes equipped with a 2' safe landing zone with which personnel can safely step out of the hatch, gain their footing, and then engage the gate. The reverse is true when re-entering the hatch. Our hatch guard also comes standard with grab bars to assist the worker as they climb in and out of the hatch.
Each Roof Hatch Guard is made to fit your particular roof hatch size, so you know it will fit the first time. Simply fill out our dimensional worksheet and we'll have everything we need to build your OSHA-compliant roof hatch guard. Our standard finish is safety yellow powder-coated, or you can select a custom color. Galvanized finish is also available. You won't find an easier to install product anywhere.
FEATURES:
• OSHA-compliant fall protection
• One-piece design — no assembly required
• No drilling into hatch or roof
• Self-closing gate included
• 24" safe landing zone
• Built-in grab bars
@safetyrailco #safetyrailco #safetyrail #fallprotection #guardrail #safetyladders

For other relevant searches, you might want to try: